Is anyone else very excited about local asparagus???

I debated posting this recipe for Asparagus Quiche because I'm not quite sure it turned out properly. But it tasted quite good, and I figured that if I shared the original recipe and how I modified it, some other cooks out there might be able to explain where I went astray.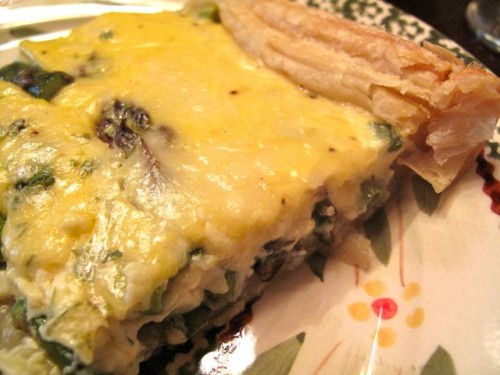 This Asparagus Quiche was the joint venture of mother and daughter. I love that I took up an interest in cooking because it allows us to have some fun together in the kitchen. Wearing cute aprons, no less!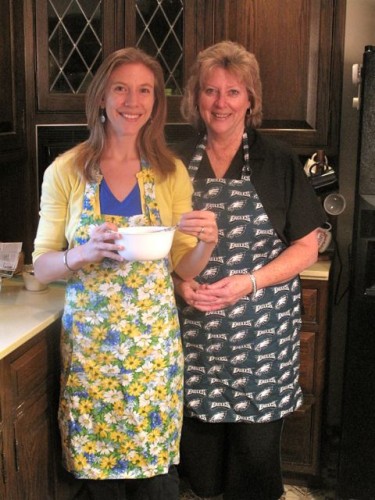 The problem, however, was that this was the first time either of us worked with puff pastry. The recipe said to roll out one sheet of puff pastry dough and fit it into a large pan without stretching it. We got the dough as thin as we could, but there was no way it was spanning the pan.
So we ended up using two puff pastry sheets, overlapping them a bit, which seemed like a fine solution until we took our first bites and realized the bottom of the quiche was still a bit doughy.

So I guess my question is, when using puff pastry sheets, are you supposed to roll them out until they are really really thin?
Besides that, though, the quiche was delicious!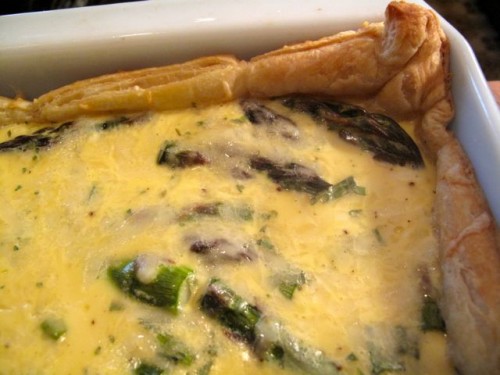 This would be a fun recipe for a brunch get-together!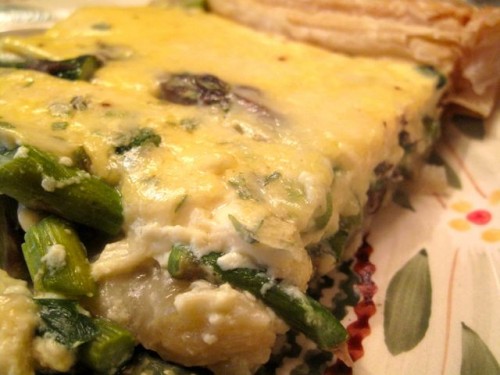 Asparagus Quiche
From USA Weekend (with my changes in italics)
Serves 8 as a side, 6 as a main dish
Ingredients
1 lb. asparagus, ends trimmed, cut into 1-in pieces
5 green onions, sliced thin
1 tbsp olive oil
sea salt and black pepper
1 sheet puff pastry, thawed (we used two)
3 eggs
3/4 cup evaporated milk
1/2 cup sour cream (we used plain Greek yogurt)
1/2 tsp. dried tarragon
1.5 cups grated Swiss cheese (you could cut this back if you wanted)
1. Preheat oven to 400º.
2. Toss asparagus and green onions with olive oil and a generous sprinkling of salt and pepper.
3. Roll pastry on a lightly floured surface into an 11-x-16 inch rectangle (we couldn't get it this thin; I was too afraid it would just rip!). Fit into a 10-x-15 inch jellyroll pan, making sure the pastry is not stretched.
4. Evenly distribute asparagus/onion mixture over pastry. Bake on lowest oven rack 12-15 minutes.
5. Meanwhile, whisk together eggs, milk, sour cream or Greek yogurt, tarragon, and 1/4 tsp. each salt and pepper.
6. Remove pastry from oven and reduce oven temperature to 300º. Pour egg mixture evenly over asparagus. Sprinkle with cheese.
7. Put quiche back into the oven on the upper-middle rack. Bake until filling is just set, 20-25 minutes.
8. Turn on broiler; broil until cheese bubbles, about 2 minutes. (We skipped this step; it seemed unnecessary.)
9. Remove quiche from oven and let rest a few minutes before cutting and serving.
Have you worked with puff pastry before? Do you know what we did wrong?
AND
Do you like asparagus? What's your favorite way to eat it? I absolutely love it, despite the fact that it gives my pee a distinct smell. (Sorry if that was "too much information," but if you've ever eaten asparagus you know what I'm talking about!

)
22 Responses to "Asparagus Quiche"