Welcome to the weekend, folks!

I hope you had a wonderful Friday and that you have an enjoyable weekend ahead of you. I'm leaving in the morning to attend a Christian women's conference, which should be a great time to connect with other women and work on increasing my spiritual fitness level. I'll be sure to share any insights this weekend may bring!
Breakfast
I've said this before, but it's worth repeating: reading healthy living blogs has given me so many ideas for interesting and delicious meals…not to mention interesting and delicious CONTAINERS for those meals.

Yep, today was OIAJ (Oats In A Jar) day! How did I ever survive before learning this ingenious way of ensuring that every last bit of nut butter is fully enjoyed?!?!
My Oats in a Jar contained:
1/2 cup oats, cooked in 1 cup water
1/2 sliced banana
pinch salt
cinnamon
ground flax
the leftover scrapings of almond butter (maybe a tbsp?)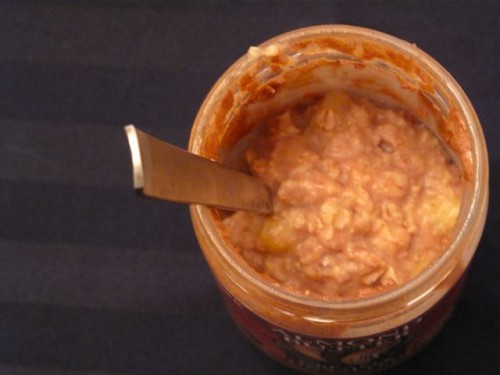 The way the hot oats melt all of the leftover nut butter is just heavenly. I mourn for all the scrapes of nut butter that – before my blog-reading days – were simply wasted.

Mid-Morning Snack
After breakfast I plotted out my day, which included the usual: reading, writing, and job-applying. Plus packing for the weekend. Afterward I headed to the Y, where I did a total of 4 miles on the treadmill: 3.5 running plus a walking warm-up and cool-down. Then I did some lower body strength work (various squats and lunges, plus some deadlifts and wall-sits).
It was a solid workout, which is good because I'll be taking two days off from exercising this week due to the conference. (I usually take just one full rest day, plus one day of lighter exercise.) I came home and made myself a little snacky-snack before attacking the to-do list.
Sliced apple and a string cheese, which I do, in fact, peel off in strings. Dave, on the other hand, just bites right into them, which I find a bit objectionable since it is indeed called string cheese.

Do you peel it into strings?

Lunch
Lunch was yet another lovely idea inspired by the blogosphere. A big thank you to Lele from Lele Lurves Plants for this great idea for tofu salad!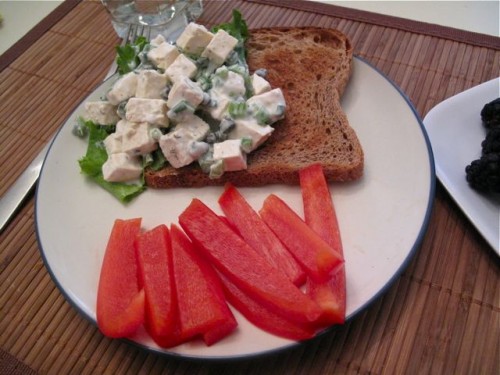 It's kind of like egg salad…but not.

The tofu salad contained:
tofu (I used the Nasoya pre-cubed kind)
green onion
celery
capers
plain Greek yogurt (perfect substitute for mayo!)
salt
pepper
dried dill
I really liked this and will definitely be making it again!
Some crunchy red pepper strips.
And some (still too tart!) blackberries.
Because the blackberries were so tart, I was still craving some sweetness. So I also had two Barbara's Bakery brand fig bars.
Afternoon Snacks
The generous folks at Chobani were kind enough to send me some Greek yogurts to sample. This afternoon I broke into the Pomegranate flavor, which was really good! It wasn't overly sweet, which I appreciated.
Topped with some Kashi Go Lean.
Here's my take on pre-sweetened yogurt: It better not be dripping with syrupy goop. Blech. I liked this Chobani because, while of course it has added sugar, it also has real fruit. Exhibit A: actual pomegranate arils.
A bit later I munched on some carrot and celery sticks, dipped in Crazy Richard's natural chunky peanut butter.
Dinner
Tonight was the meeting of my monthly book club! We're just a small group of women who like to read all kinds of books and then chat about them (and lots of other topics!), all while eating, of course!

We're looking for new members, if any readers in the Baltimore area are interested!
This month we read The Shadow of the Wind by Carlos Ruiz Zafon. It was quite different from most of the other books we've read; it was part-mystery, part-romance, part-thriller. It probably took a good fifty pages for me to really get into it, but once I did I really enjoyed it! There were definitely slow parts, but other parts were page-turners.
For dinner, our lovely host Haley made this oven-roaster chicken.
I was in charge of the salad, which contained Romaine, cherry tomatoes (of course!), red onion, cucumber, carrots, shredded cheddar, golden raisins, and sliced almonds.
My plate.
I ate all of it, plus a second serving of salad.
For dessert, we had CAKE!
And it was good.

Time for me to get some shut-eye so I can get up bright and early for the conference. I won't be posting in "real time" over the weekend, but I have scheduled a slightly different kind of post to share with you while I'm away. I hope you like it!

What are your plans for the weekend? What are you most looking forward to?
AND
What's your all-time favorite book? (Tough question, I know!)
P.S. If you pack your breakfast to-go, you should definitely enter this Fit & Fresh Breakfast Chiller giveaway!
10 Responses to "What I Ate – 2/12/2010"