Per my food budget rules, I've been making a legitimate effort to use up the edibles I already have in my house before buying more. An unexpected but pleasant consequence of this endeavor is that it makes me more creative in the kitchen!
The original idea for this dish was inspired by Cara's Crispy Coconut Tofu Nuggets (that woman is a genius, I tell ya!). I knew I wanted to use tilapia (yes, I still have more tilapia filets in my freezer!), the leftover pecans from this recipe, and the leftover coconut from this recipe. By combining the three, Pecan Coconut Fish was born.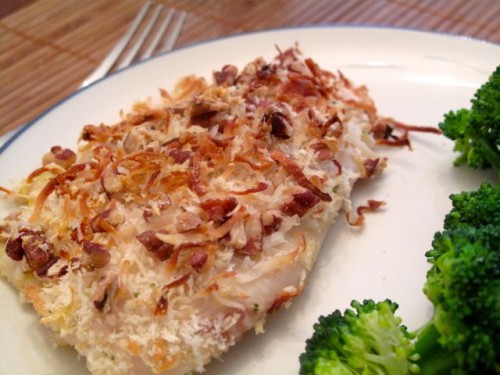 The first thing Dave said when he took a bite was, "Wow, the flavors in this go really well together!" I took that to mean it was a success.

To make Pecan Coconut Fish, I assembled this little work station.
I dipped each fish filet in egg substitute, then rolled it in a mixture of panko breadcrumbs, shredded coconut, chopped pecans, lime zest, sea salt, and pepper. I then placed each filet on a baking sheet, sprinkling more of the coconut/pecan mixture on top.
The filets baked at 375º for 15 minutes (they were pretty thin). When I pulled them out of the oven I squeezed some fresh lime juice on top. Delicious!
Pecan Coconut Fish
Serves 2
Ingredients
2 mild white fish filets, 4-6 oz. each (I used tilapia, but cod, haddock, and mahi mahi would all work well)
1/4 cup egg substitute (or 2 egg whites, or 1 egg, beaten)
1/2 cup panko breadcrumbs
1/4 cup unsweetened shredded coconut
1/4 pecans, chopped
1 lime – zest and juice
salt and pepper
1. Preheat oven to 375º.
2. Pour egg substitute into a shallow dish. Combine panko, coconut, pecans, lime zest, salt and pepper in a shallow dish or plate.
3. Dip each fish filet in the egg mixture, then gently roll it in the coconut/pecan mixture, covering the filet as much as possible.
4. Place the fish on a baking sheet/dish coated with nonstick spray. Sprinkle more of the coconut/pecan mixture on top.
5. Bake for 15-20 minutes (depending on the thickness of the filet), until firm and opaque in the center.
6. Remove from oven, sprinkle with fresh lime juice, and serve!
What's your favorite way to use shredded coconut? I still have more I need to use up!!!
26 Responses to "Pecan Coconut Fish"