**Thank you so much for your wonderful comments and suggestions regarding emotional eating. Not surprisingly, all of you are incredibly smart and insightful and inspiring! You have no idea how much joy and encouragement I get from reading your comments!**
On to the topic at hand…
I once read an interview with a recreational runner. When asked why she runs, she answered, "Because I love cake."
She was making an innocent joke, of course. But her comment highlights the troubling connection so many of us make between how much we move and what we eat.
Honestly, in my quest for a healthy, balanced lifestyle, the associations I made between eating and exercise have been some of the hardest to shake.
Perhaps that's because food and fitness exercises form Get Fit Fast are deeply intertwined in many ways. Making our bodies healthy requires attention to both diet and exercise. And how we eat has a profound effect on the quality of our workouts; food literally fuels them. Even so, I've made quite an effort to disassociate one from the other.
By disassociating, I mean that I try to no longer think things like:
"I can eat an extra cookie because I went running today."
"I shouldn't have seconds because today was a yoga day, which doesn't burn as many calories."
"Alright, I'll have a piece of cake, but to make up for it I'll stay at the gym for an extra half hour tomorrow."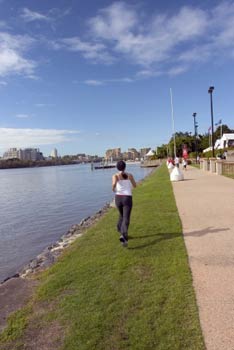 (Source)
Why do I think it's so important to avoid this type of thinking? Because such thoughts indicate that my ultimate goal of HEALTH is being crowded out by obsessions with WEIGHT. While maintaining a comfortable weight is certainly a part of being healthy, it is only one aspect of it, and probably not the most important one. Deep down, I believe that healthy eating is important because of the vitamins and nutrients it provides our bodies, and exercise is vital for strengthening our internal muscles and organs. The value of both goes far, far beyond the number on the scale.
When I first started openly battling my disordered eating thoughts and behaviors, the connections I made between what I ate and how much I exercised were especially frustrating for Dave. While writing this post, I asked him why it bothered him so much to hear me say things like, "I really shouldn't, I didn't exercise today."
His answer sums it all up quite perfectly. He said:
"You shouldn't have to earn your food."
Have you ever accepted or turned down a slice of cake based solely on whether or not you exercised that day? For you personally, are such connections no big deal? Or do you try to avoid this kind of thinking? I'm really excited to hear your thoughts on this, because I realize it might be different for people who don't have the history of eating issues that I do.
By