I literally just finished eating dinner, and I'm sitting down to blog about it right away because it was that good.
I can hardly believe how delicious this Caramelized Tofu with Pecans and Brussels Sprouts was, considering how quickly and easily I whipped it up! Here's what I did.
After I drained and pressed some tofu, I cooked it in a bit of olive oil until it was golden brown.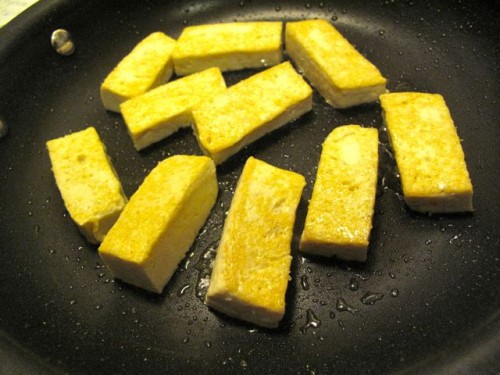 Then I added an amazing flavor combo: minced garlic, chopped pecans, and brown sugar.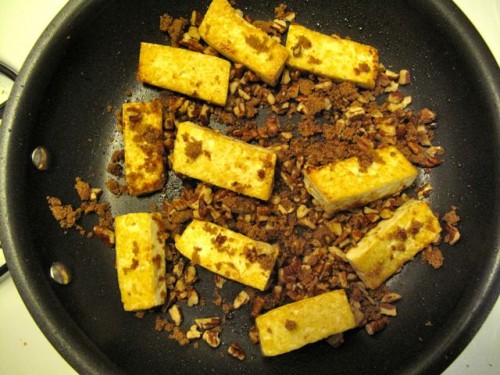 Plus some fresh cilantro.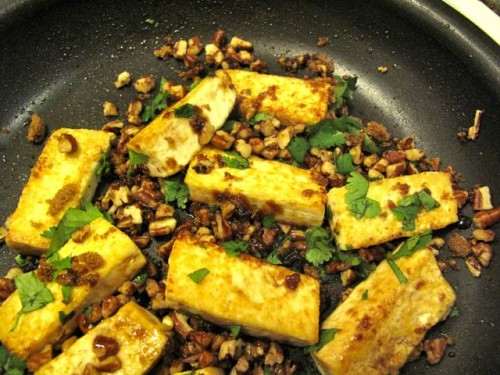 Then I set that aside and got to work on my Brussels. The recipe called for them to be cut into ribbons…and I had no idea what that meant! Some nice folks on a cooking forum helped me out. (Thanks you, ladies on The Nest!

) In case you're wondering, you trim the end of the sprout, cut it in half, and then – with the cut side down – cut thin strips. As such:
Cooked them in a little more EVOO, until there were just a couple of brown bits.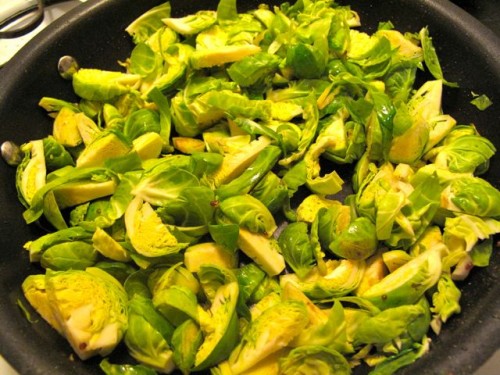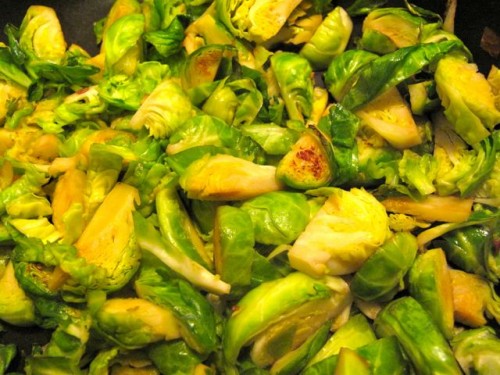 Put it all together for a delicious – and quite beautiful! – meal!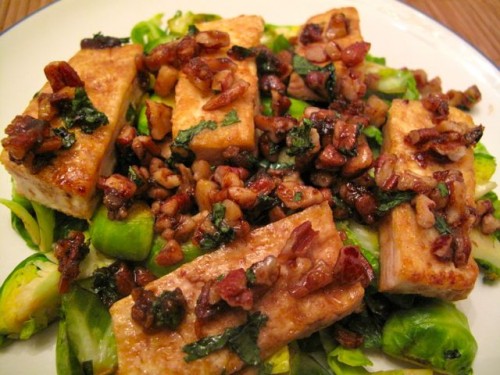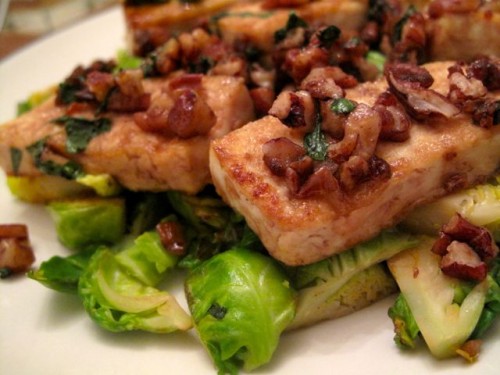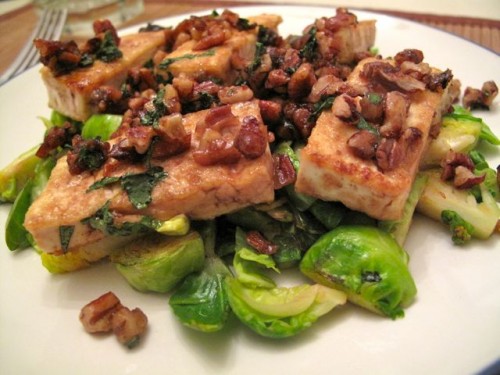 (I hope you don't mind multiple photos…I can never pick just one!)
Caramelized Tofu with Pecans and Brussels Sprouts
Adapted from Food alla Puttanesca via 101 Cookbooks
Serves 2 as a main dish
Ingredients
8 oz. extra firm tofu, drained, pressed, and cut into 1 inch strips
a few pinches of sea salt
2 tsp olive oil (or peanut oil, if you have it), divided
2 tsp minced garlic
1/3 cup pecan pieces
3 tbsp brown sugar
1/4 cup cilantro, chopped
1/2 lb. Brussels sprouts, cut into ribbons
1. Heat 1 tsp oil in a large skillet over high heat. Add a bit of salt, and cook tofu until golden brown, about 5 minutes.
2. Add the garlic and pecans, and cook for another 2 minutes.
3. Stir in the brown sugar, cook for another 2 minutes.
4. Remove from heat and stir in the cilantro. Set the mixture aside and keep warm.
5. Add the second tsp of oil to the pan, plus another pinch of sea salt. Turn the heat to medium-high, and stir in the Brussels sprouts. Cook for 3-5 minutes, stirring occasionally, until there are some brown bits.
6. Plate the sprouts, then top with the tofu mixture. Enjoy!
Do you have a favorite tofu recipe? I think this might be mine!
14 Responses to "Caramelized Tofu with Pecans and Brussels Sprouts"