Evening, everyone! I hope you had a wonderful Wednesday. We're over the hump and the weekend is in sight!

Breakfast
My breaking of the fast was actually in two parts, due to the fact that a 9-mile run was on the agenda. Whew! I got up nice and early to run first thing. Before I headed out, I fueled up with half of a naner and some shredded wheat.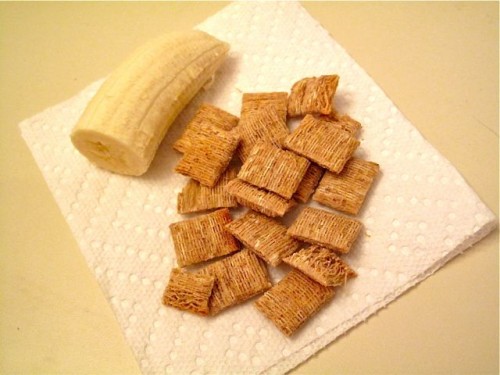 My run went really well! The fact that I don't stress about my time or my pace is what makes these long runs not only possible, but also enjoyable. I just chug along at whatever pace my body feels comfortable, enjoying the sunshine and the scenery and my thoughts.

I came home and did a very good thing – stretched!!! My friend Jory, whom you may remember from her fabulous guest post, sent me some stretches to try, and I gotta say, doing them felt really good. Like, really good. Thanks, Jory!

Maybe I'll finally get over my bad habit of not stretching!
Then I made myself my real breakfast.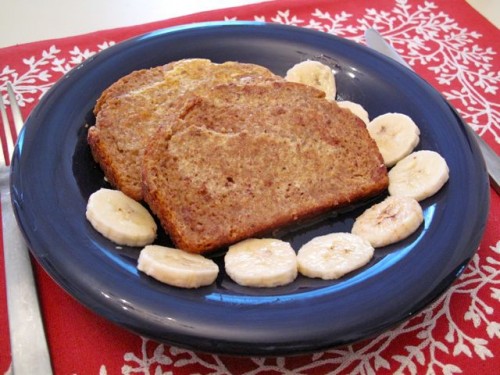 French Toast! I took two pieces of homemade bread, dipped them in an egg bath with some cinnamon and nutmeg, then put them in the skillet with some nonstick spray for a minute or so per side. Enjoyed with a drizzle of pure maple syrup.
If you are not yet using pure, real maple syrup, I have to ask…why not??? It tastes so much better than the fake stuff, which is filled with frightening ingredients, and a little goes such a long way; a tablespoon or so was plenty for these two pieces of toast.
I also had the other half of my banana.
And some Greek yogurt for PROTEIN.
Mid-Morning Snack
My eating schedule was all out-of-whack today. My French toast was consumed around 10:00 a.m., so I wasn't hungry enough for lunch at the usual time. But I had a dentist appointment in the afternoon, so I knew I had to eat something or else I'd be gnawing at my arm later on. I went with a Blueberry Smoothie.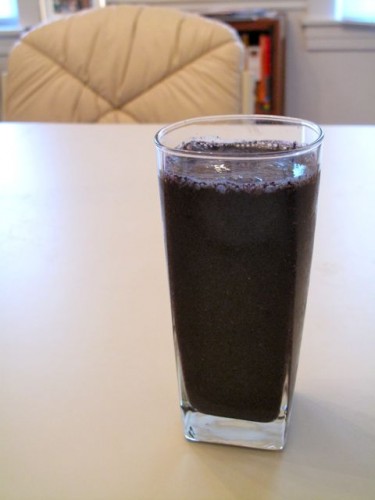 Two heaping cups spinach, one cup almond milk, and a cup or so of frozen blueberries.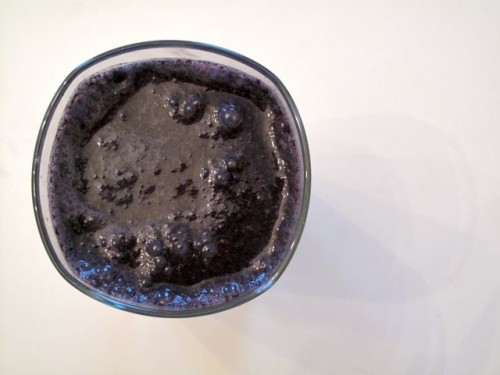 Maybe not the wisest choice before going to the dentist…my teeth definitely turned a bluish-purplish tint!

Attractive, I know!

(Don't worry, I brushed them back to white immediately after this photo was taken!)
Lunch
Besides having to wait in the waiting room for almost forty minutes, my dentist appointment went very well! You might remember from my Monday Confessions that I do not floss. I also had not been to the dentist in three years.

So I was quite relieved to learn that my gums are actually pretty healthy! I do have one cavity

but all things considered I say not bad!
After that adventure, I finally got to eat some lunch – at 4:00!!!

Yep, another mega salad. It's quite colorful, no?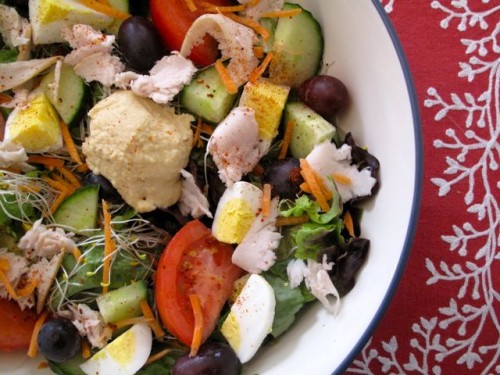 This one contained:
spring mix lettuce
sprouts
shredded carrots
cucumber
a few big tomato wedges
hard boiled egg
2 torn slices of deli turkey (Applegate Farms brand – the most "natural" I've been able to find)
red grapes for some sweetness
big dollop of hummus (I put a bit on my fork for each bite)
a few shakes of Penzey's Salad Elegant seasoning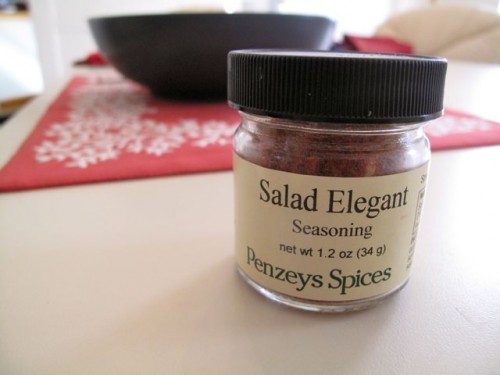 I have two things I'd like to say about salads. First, I hear a lot of people accuse them of being boring. I'm sorry, but this is anything but!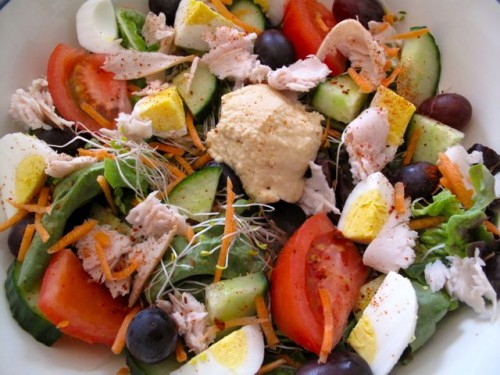 Second, I hear people complain that salads are not filling enough. My response is that you need to make them BIGGER (with voluminous veggies) and you need to add quality sources of PROTEIN and FAT. (Eggs, beans, grilled chicken, tuna, nuts, seeds, etc.) Then your salad will fill you up!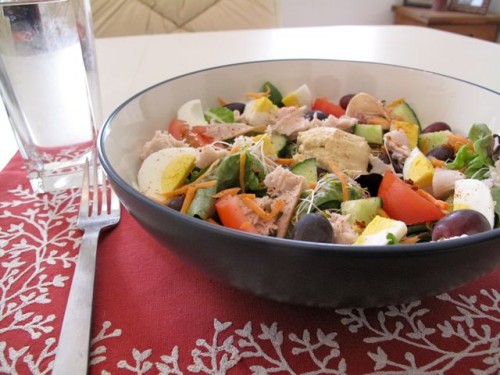 Afternoon Snack
Even though I ate my lunch at 4:00, I still had a snack later on because Dave and I have a tendency to eat dinner quite late.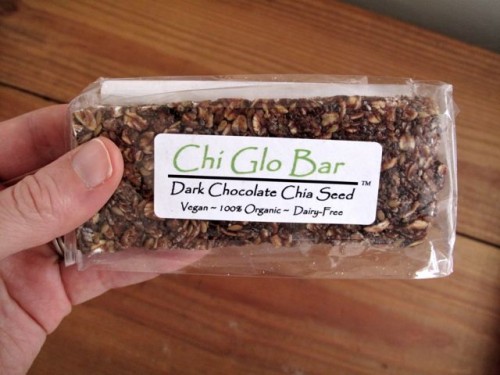 Another Glo Bakery success! The texture of these bars is just dead on.
Dinner
Pulled out the old George Foreman for dinner tonight.
Had we planned ahead a bit better we could have used the charcoal grill outside, but since it was pretty late, the Georgie worked just fine.
Simple grilled chicken breast topped with Trader Joe's Pineapple Salsa and some mango chunks.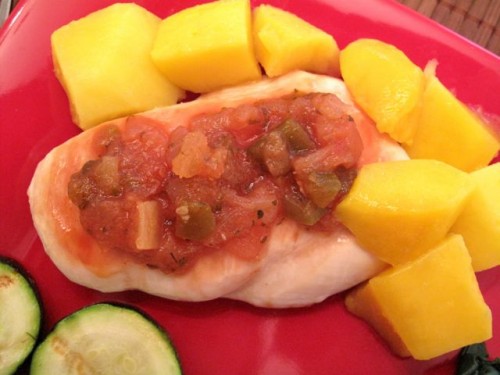 Grilled zucchini seasoned with lemon pepper.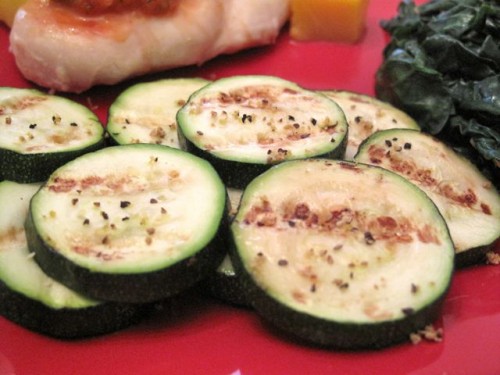 Sauteed spinach (from Dave's container garden out back!) with a bit of garlic.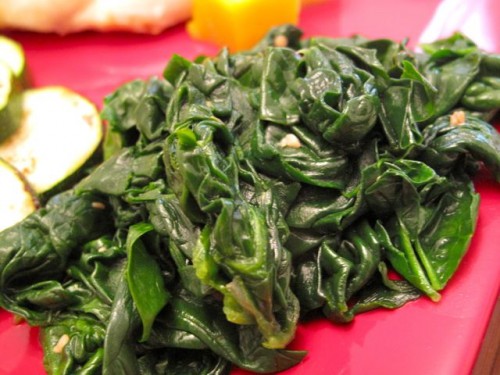 Simple, quick, balanced, delicious.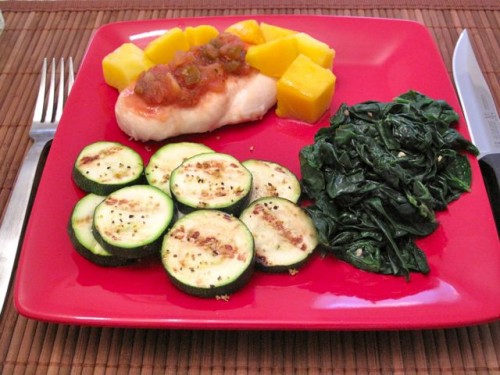 Evening Snack
I just finished enjoying this lovely dessert.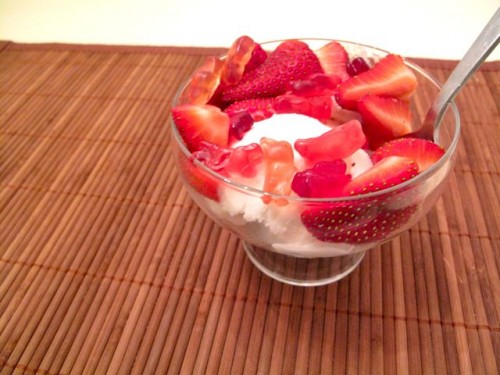 Plain frozen yogurt topped with strawberries and Annie's bunny fruit snacks.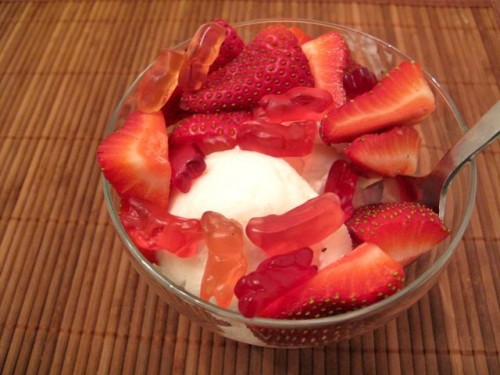 Whew! I am pooped! Time for me to do a little of this:
Except I think I'll go for the bed instead of the radiator.

What are your feelings on going to the dentist? Hate it? Don't mind it? Are you good at keeping up with your regular cleanings and check-ups?
AND
Do you appreciate a good mega salad? What are your favorite ingredients to throw in the bowl?
23 Responses to "Blue Teeth and Big Salads"