Hi, everyone! I hope that you had a calm day…which would be the opposite of mine! I can think of no better way to describe my day than a ROLLER COASTER. One that has a lot of hills. And let's just say that I'm not the biggest fan of amusement parks.

DOWN: Waking up
I slept horribly last night, and ended up staying in bed an hour later than usual. I felt so off that I decided to put off exercising in the hopes that I'd feel a bit more like myself in the afternoon.
UP: Breakfast!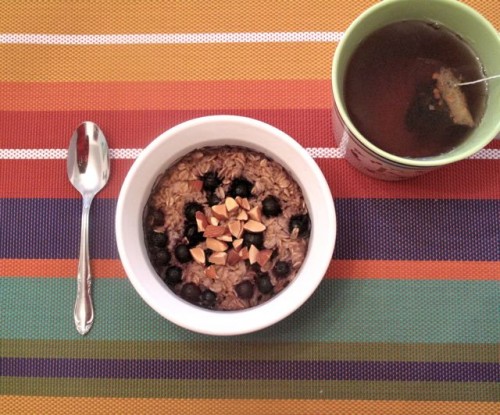 Blueberry Baked Oatmeal!
For some reason I always think of baked oatmeal as a weekend kind of breakfast, but making an individual portion is actually easy and fast enough for a weekday if you play your cards right. If you pop it in the oven before you blow-dry your hair and do your makeup, it will be ready for you at the exact moment you're ready for it!

My baked oatmeal contained:
1/3 cup oats
1/3 cup plus a bit more almond milk
touch of salt
cinnamon
1/2 tsp vanilla extract
1/4 cup frozen blueberries
roughly chopped roasted almonds on top
I just mixed everything (except the almonds) together, then baked it at 375º for about 25 minutes. It was lovely!
UP: Shopping and Post-It Notes
I had some random errands to run in the morning, which included purchasing a desperately-needed sports bra. I was literally down to one that fit properly and wasn't completely stretched out. So now I am at two.
While in the dressing room I posted an Operation Beautiful note. I post them for the benefit of others, but writing the message is a real mood-booster for me too!

DOWN: Lunch
I had big plans to make a really fun lunch today, but I got so hungry while I was out and about that I stopped at Subway. Not that I don't love Subway! It just wasn't as exciting as what I thought I'd be eating. Another day, another lunch, I suppose!
That would be a veggie monster: lettuce, tomato, cucumber, banana peppers, sweet peppers, red onion, and honey mustard.
DOWN: Nap and Momma News
I told myself that when I was finished my errands I would immediately come home and do homework. Somehow I ended up on the couch snoring for 45 minutes.

And then, about 2 minutes after I came to, I got a call that my mom is having emergency laser eye surgery in the morning for a torn retina.

We actually don't know a lot of details because she needs to go to a retina specialist who was out of the office today. But apparently it is crucial that she have the surgery as soon as possible to prevent major damage to her vision.

I immediately rearranged my schedule and will be driving to York to spend the day with her tomorrow. I'd appreciate any prayers and/or positive vibes you could send her way!
UP: Snack
You really can't go wrong with a LARABAR.
Love this flavor!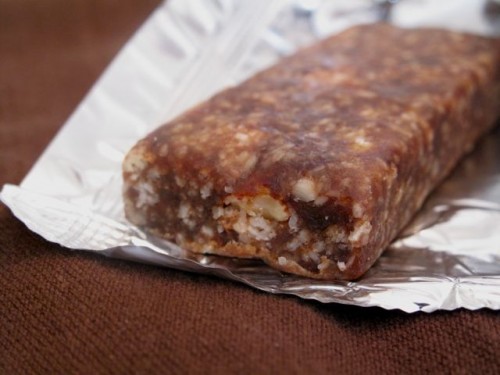 DOWN: Run
Ugh, my run was just crappy, one of the worst I've had in quite some time. It pretty much stank because:
I was overdressed and felt way too hot the entire time.
I started out too fast and then had trouble finding my groove.
I meant to run 4 miles but miscalculated the route and ended up running a little over 5.
I had to deal with numerous catcallers (I'll save you my full rant, but I will say that the fact that I am running by your construction site is not justification for whistling at me or commenting on my body. )
You win some, you lose some, I guess!
UP: Post-run snack
Apple slices and Pumpkin Seed Kale Crackers that I got at Fitbloggin' from Pure2Raw!
Fabulous ingredient list.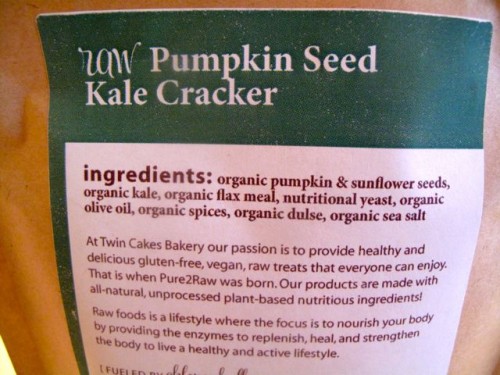 These were really flavorful! They were so much better than the kinds I sampled at FitBloggin, which I think had onion in them.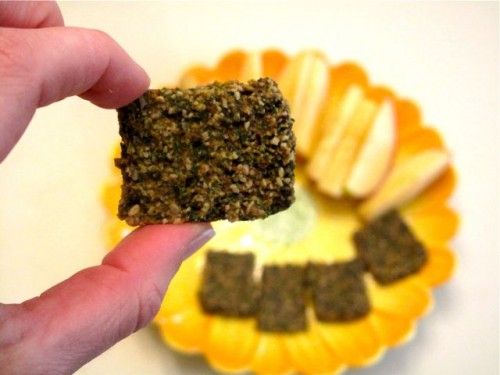 I went back for a few more…and by that I mean that half the bag is already gone!

DOWN: Homework
Enough said.
UP: Receiving word that my friend from college went into labor…can't wait to get the call that her baby girl has arrived safe and sound!
UP: Dinner!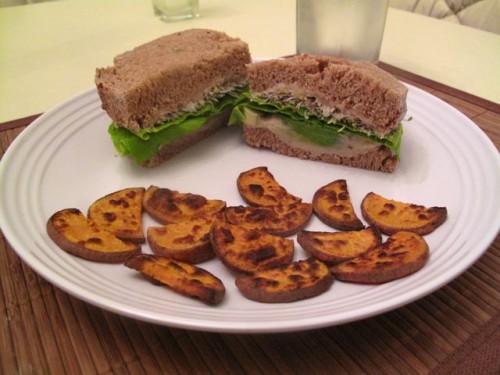 I love sandwiches, and this one totally rocked. I got the idea from this blog post.
The sandwich was made up of:
HOMEMADE (by Dave!) 100% whole wheat bread (we're seriously considering switching entirely to homemade bread…it tastes so delicious, has no preservatives and only a handful of ingredients, and Dave's really good at making it!)
pureed white beans seasoned with fresh lemon juice, salt, and pepper
avocado slices
Bibb lettuce
alfalfa sprouts
I already can't wait to re-create this for lunch tomorrow!
On the side, some sweet potato cheetahs! (Note the spots.

)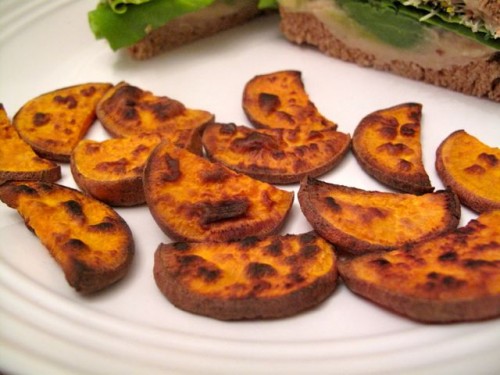 Ketchup for dipping.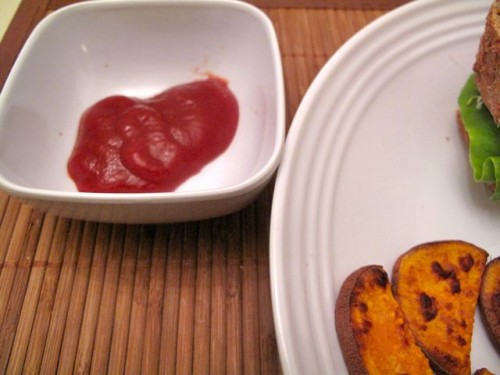 Such a delicious dinner!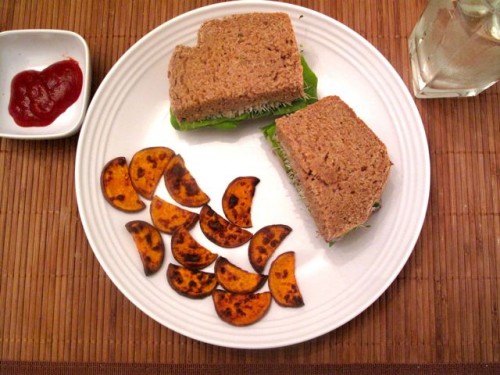 UP: Reading other health and fitness blogs and feeling totally inspired and uplifted!
UP: Dessert
Ending it on a sweet note!
Chocolate Fig VitaTop smothered with peanut butter.
Whew! All that up and down motion kind of made me sea sick!

How do you handle roller coaster days?
AND/OR
Are you a Subway fan? What's your go-to sub?
17 Responses to "A Day of Ups and Downs"