Here's the challenge: capture the essence of your healthy living experiences…in only six words.
I was having trouble falling asleep last night, so I pulled this fun little read off of my bookshelf. Have you heard of it?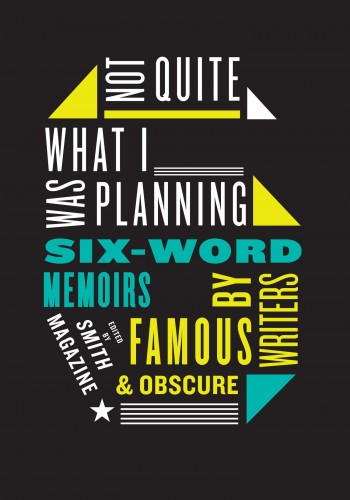 (Source)
Not Quite What I Was Planning is a compilation of six-word memoirs. Yes, just six words. It was inspired by the legend that Ernest Hemingway was once challenged to write a story in six words. Not surprisingly, he rose to the occasion, writing:
"For sale: baby shoes, never worn."
Wow. The lesson? You really can tell a whole story in six words!
Some highlights from the book:
"My second grade teacher was right." - Janelle Brown
"Danced in fields of infinite possibilities." – Deepak Chopra
"When all else fails, start running." - Dean Karnazes
"Brought it to a boil, often." - Mario Batali
"Lucky in love, unlucky in metabolism." - Leah Weathersby
"In a Manolo world, I'm Keds." - Colleen Cook
"I colored outside of the lines." - Jacob Thomas
Of course my brain started spinning with what my six-word memoir would be in regards to healthy living. I couldn't pick just one! (I guess writing multiple memoirs kind of defeats the purpose of only using six words, but whatever!

)
My Six-Word Healthy Living Memoirs
On Healthy Eating
Ate

real food

. Felt much better.
I found

balance

amidst the extremes.

On Exercise
Thought I couldn't. Then

I did

.
Learned to love

moving

my body.

On Balancing Body, Mind, and Soul
Started living when I stopped

obsessing

.
I hope God knows I

tried

.
So grateful for my

undeserved

blessings.
Trusted in Jesus's message of

love

.
I finally realized perfection is

overrated

.

Just For Fun

Loved God, cookies.

In that order

.
Can you relate to any of my six-word memoirs?
If you decide to write your own, feel free to share it in comments!

2 Responses to "Write Your Healthy Living Memoir"