Perhaps you've seen this advertisement from Ralph Lauren, in which the image of a perfectly healthy model has been drastically distorted.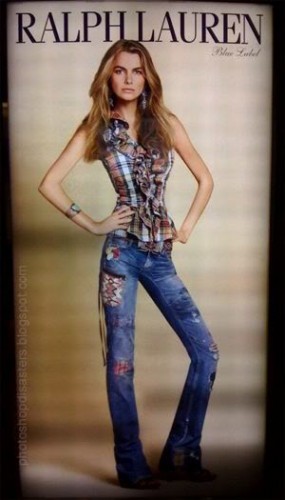 (Source)
Or maybe you heard about the controversy over Self magazine's cover image of Kelly Clarkson, which the editors admit to altering significantly via Photoshop.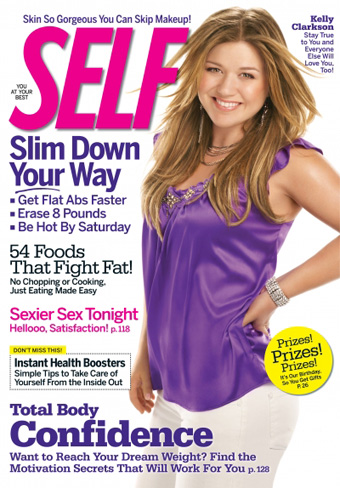 (Source)
And you might have come across this inspiring video from Dove, which visually illustrates the elaborate process of transforming the "raw material" of a model into a suitable billboard ad.
We are surrounded by images of women that have been airbrushed and Photo-shopped and altered like crazy to reflect the media's definition of perfection. But is there anything to be done about it?
On Tuesday, the UK's main professional organization for psychiatrists called for a code of ethics to be created to hold the media accountable for the types of messages it sends. The organization also called for a symbol to be placed on images that have been airbrushed, in the hopes of raising awareness that such images do not reflect "reality."
One of the doctors calling for these changes said:
"Eating disorders…are serious mental illnesses. Although biological and genetic factors play an important role in the development of these disorders, psychological and social factors are also significant."
The editor of a best-selling teen magazine in the UK countered the psychiatrists' proposal by calling it impractical; where do you draw the line? She argues that almost all images are digitally enhanced in some way, usually to brighten the colors or improve the clarity. How do you determine which images require the symbol?
I think it's an interesting debate. As someone who has struggled with disordered eating, I know how powerful media images can be; for a long time I had to avoid women's magazines completely. On the other hand, we cannot claim that magazines and advertisements cause eating disorders, or else everyone would have one!
What do you think? Should images that have been significantly altered be required to carry a symbol indicating so? Should the media follow a "code of ethics" in its portrayal of women's bodies?
(Sources: The Independent, Feministing, and Medical News Today)
15 Responses to "Warning: This Image Has Been Airbrushed"