I don't bake very often. Why? Not because I don't enjoy it. (I do.) Not because I don't love baked goods. (I very much do!) I don't do a lot of baking because I am the MESSIEST baker on the planet. Somehow I always end up with a smudge of flour on my cheek and bits of batter in my hair.
But sometimes getting a little messy is worth it. Case in point: Gingered Applesauce Bread with Dark Chocolate.
A few weeks ago Dave happened to walk behind me while I was blog-browsing, and what he saw on Bran Appetit! stopped him dead in his tracks. Brandi's beautiful photos of her gingered applesauce cake made his mouth water, Pavlov's dog-style.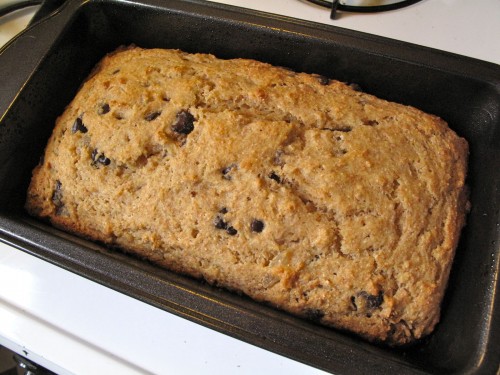 Unfortunately Dave had a pretty stressful week, so I decided to surprise him yesterday, and boy am I glad I did!

You will love this bread even if you're not a huge fan of ginger; it's subtle and sweet. Of course you could always omit it, but I think that would be a shame.

And you can't go wrong with the chocolate! Just wondering is white chocolate really chocolate.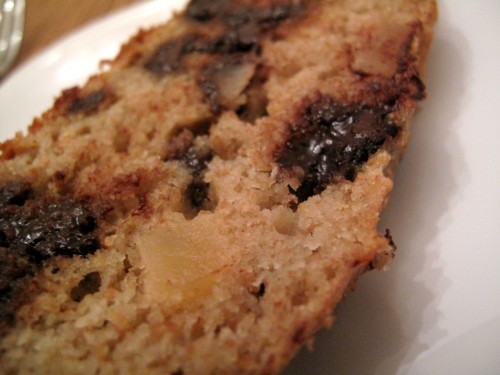 Gingered Applesauce Bread with Dark Chocolate
(Source: Bran Appetit!)
Ingredients
4 tablespoons unsalted butter
1 cup all-purpose flour
1 cup whole wheat flour
1/2 cup sugar
3/4 tsp baking soda
1/2 tsp salt
3/4 cup dark chocolate chips
1/2 cup chopped crystallized ginger
2 eggs
1 cup unsweetened applesauce
1/2 cup vanilla Greek yogurt
1. Preheat oven to 350*.
2. Melt the butter and then set aside to cool.
3. In a large bowl, mix the flours, sugar, baking soda, and salt.
4. Add in the chocolate chips and chopped ginger; stir to mix.
5. In a separate bowl, beat the eggs. Add the applesauce, yogurt, and melted butter and mix until combined.
6. Pour the wet mixture into the dry, mix until just combined (don't overmix!)
7. Pour batter into a greased loaf pan.
8. Bake for 50 minutes, or until the top is golden brown and a toothpick comes out clean. (Be sure to savor the delicious smell coming from your kitchen during this time.

)
9. Let cool for 5-10 minutes before slicing.
Let me know if you try this one!
10 Responses to "Gingered Applesauce Bread with Dark Chocolate"