My husband Dave is a lover of all things SEAFOOD! This works out quite well for us in terms of striving for a healthy lifestyle; the American Heart Association recommends at least two servings of fish per week to help prevent heart disease, lower blood pressure, and reduce the risk of heart attacks and strokes.
So I'm always on the lookout for simple yet flavorful fish recipes. This Ginger-Glazed Tilapia totally fits the bill!
I adapted my dish from this mahi mahi recipe from Food alla Puttanesca. I intended to use mahi mahi, but the snow storms this week prevented me from getting it. After consulting with the experts on a cooking forum I frequent, I went ahead and substituted the tilapia fillets I already had on hand. It worked perfectly!
The process is nice and simple. (Would you expect anything else from me?)

First I created the marinade/sauce by combining honey, soy sauce, balsamic vinegar, freshly grated ginger, garlic, and olive oil. I put the tilapia fillets into the dish, covered them with some of the sauce, and put them in the fridge to marinate for about 20 minutes.
After 20 minutes, I fried the fish in a tiny bit of canola oil. The original recipe called for 4-6 minutes on each side, but because my fillets were rather thin, 3-4 minutes per side was plenty.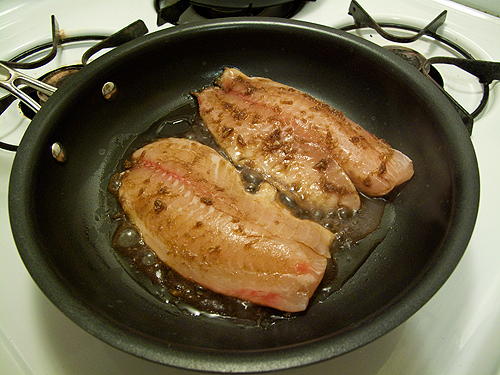 Looking delicious!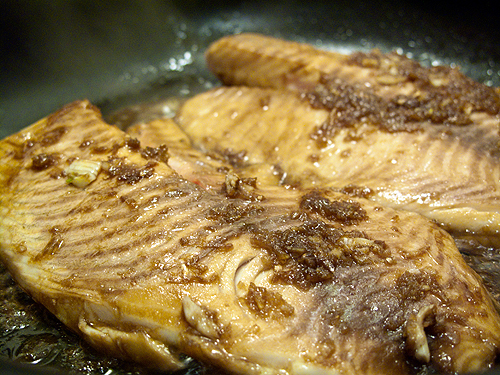 Once the fillets were cooked through, I removed them from the skillet and placed them on the serving plate (with another plate over top to keep them warm). The leftover marinade then went into the skillet for about 3 minutes, until it was thickened to a glaze. The glaze was poured on top of the tilapia, and dinner was served!
We enjoyed our Ginger-Glazed Tilapia with roasted cremini mushrooms (way tastier than they look) and some wholegrain toast.
If you like ginger, you are going to love this glaze!!!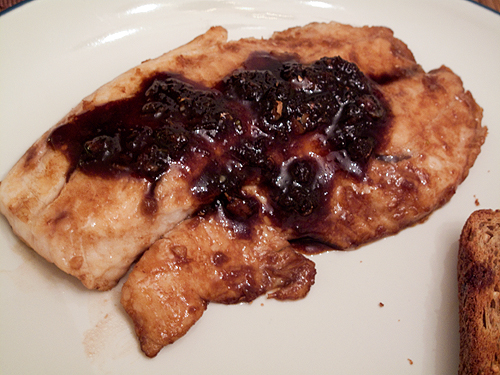 Ginger-Glazed Tilapia (Serves 4)
(adapted from Food alla Puttanesca)
Ingredients
3 tbsp honey
3 tbsp soy sauce
3 tbsp balsamic vinegar
2 tsp olive oil
1 tsp grated fresh ginger root (I used slightly more because we love ginger!!!)
1 clove garlic, crushed
4 (4-6 oz) tilapia fillets
1 tbsp mild-flavored oil, such as canola
1. In a shallow dish, stir together honey, soy sauce, balsamic vinegar, ginger, garlic, and olive oil. Season fillets with salt and pepper, and place them into the dish. If the fillets have skin on them, place them skin-side down. Cover and refrigerate for 20 minutes to marinate.
2. Heat the oil in a large skillet over medium-high heat. Remove fish from the dish, and reserve marinade. Fry fish for 3-4 minutes on each side (may be more or less depending on the thickness of the fillets), turning once, until the fish flakes easily with a fork. Remove fillets to a serving platter and keep warm.
3. Pour reserved marinade into the skillet, and heat over medium heat until the mixture reduces to a glaze consistency. Spoon glaze over the fish, and serve immediately.
Do you love fish? Do you love ginger? If so, you'd fit right in in my household!

One Response to "Ginger-Glazed Tilapia"