One of the great joys in the life of a budding cook and foodie is successfully experimenting with a new ingredient. I experienced that joy last night as I "yummed" my way through what I am calling Bison Rotini.

Dave and I generally don't eat a lot of red meat, but for quite some time we've been curious about bison meat and have been wanting to try it. At first I assumed that – in terms of nutrition – bison was comparable to beef. MISTAKE! I have since learned that buffalo meat is extremely nutrient-rich but low in fat; basically, you get the benefits of red meat (such as protein, iron, zinc, and vitamin B12) for significantly less fat and fewer calories than beef.
I found this handy little comparison chart quite interesting: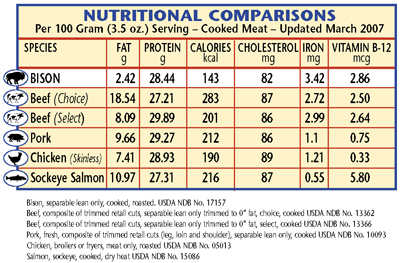 (Source)
On to the food!

Well, actually, before we get to the main attraction, I've been dying to show you THIS: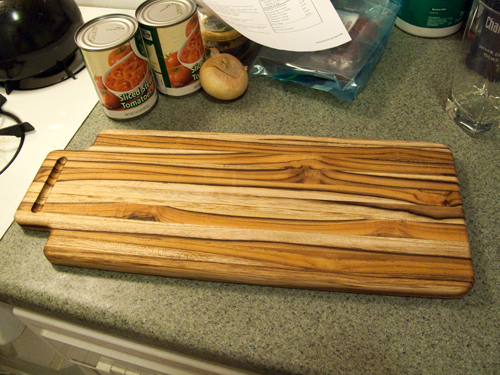 It's a teak cutting board that we found at a cute little home furnishings store in the Hampden neighborhood in Baltimore. It's made by a company called PROTEAK, which uses renewable forestry and sustainable practices to produce absolutely beautiful products like this one.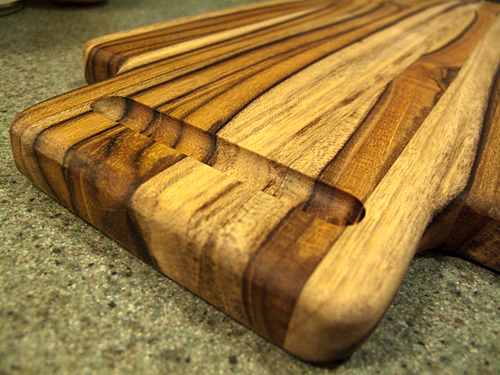 Another small pleasure for the novice chef? (Or any chef, for that matter!) New kitchen tools!

Ok, back to the BISON!
We purchased the ground bison at our farmers' market from the Gunpowder Bison and Trading Company, which is located in Monkton, MD. (LOVE that we can get local bison meat!) The bison are locally raised on the Gunpowder ranch, and are hormone and antibiotic free.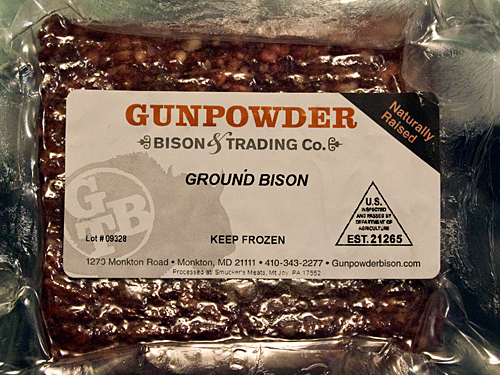 Dave suggested we try a very simple recipe so that we would really be able to taste the flavor of the bison. I ended up adapting this Poverty Meal recipe from Recipe Zaar. However, the name "Poverty Meal" doesn't sit well with me, plus it's completely inaccurate when you substitute $6/lb. ground bison for the ground beef! So I am naming my version Bison Rotini.
(Note that the nutritional data also changes significantly when you substitute lean ground bison.)
Basically I just sautéed some onion and garlic while I browned the ground bison.
Drained the bison (which was hardly necessary – there was so little fat!) and added it to the onion and garlic mixture along with stewed tomatoes, water, rotini pasta, and some salt and pepper.
Brought the mixture to a boil and then just simmered for about 15 minutes, until the rotini was tender. So simple!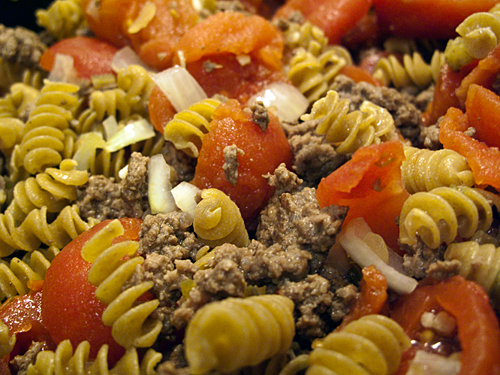 For our veggie side, I roasted up some carrots and parsnips with EVOO, salt, pepper, and rosemary.
We topped the Bison Rotini with some grated Parmesan. Dinner is served!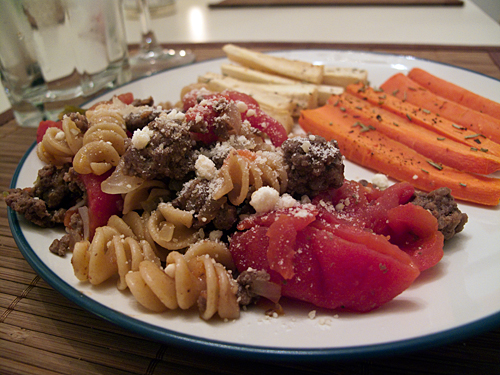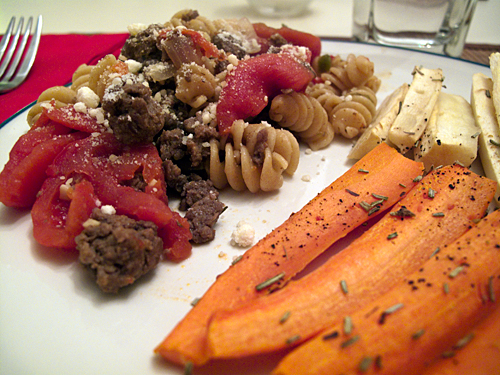 My verdict on bison? INCREDIBLE! I was worried it might taste a bit "gamey," but that was not the case at all! It tasted pretty close to beef, perhaps with a somewhat sweeter flavor. And I love that I can get the iron and protein I need without all of the heaviness of beef.
Bison Rotini (adapted from the Poverty Meal from Recipe Zaar)
Serves 4-6
1 large onion, chopped
2 garlic cloves, minced (or 2 tsp jarred minced garlic)
1 tablespoon olive oil
1 lb. ground bison
2 (14.5 oz) cans stewed tomatoes, drained
1 (14.5 oz) can water
8 oz. whole wheat rotini pasta, dry
salt
pepper
grated Parmesan
Saute the onions and the garlic in the olive oil until the onions are translucent.
Meanwhile, brown the ground bison and drain (hardly necessary!).
Add ground bison, tomatoes, water, dry rotini, salt and pepper to the onion and garlic mixture. (I just eye-balled the salt and pepper, and probably went a little too light on the salt.)
Bring the mixture to a boil, then simmer for about 15 minutes, until the rotini is tender.
Serve topped with Parmesan cheese.
A Few Tips for Cooking with Bison (via Gunpowder Bison and Trading Company)
Because bison is so low in fat, it can dry out easily.
When cooking bison steaks, avoid using a broiler, which can make the meat too tough.
When cooking roasts, low and slow is best.
When cooking ground bison or bison patties, be sure not to overcook. Remember that it will cook faster than ground beef, there will be little to no shrinkage, and there will be little to no need to drain excess grease from the pan.
Let your bison rest for 5 minutes after it's finished cooking. Cutting into the meat immediately allows the juices to run out, making it less moist.
Have you ever cooked with bison? If so, please share your favorite bison recipes – I'd love to try them! If not, I highly encourage you to try it!
3 Responses to "Bison Rotini"