Raise your hand if you find arranging your food in interesting, pleasant, or cute ways to be extremely enjoyable…my hand is up!

Even if you didn't raise your hand, I bet you still appreciate impressive, creative food presentation – be it at a fancy restaurant or on television. (There's a reason why on the popular television show Iron Chef the chefs can be awarded up to five points for plating and presentation!)
The Japanese are masters of food presentation. You see, they have this little thing called Bento, which is a take-out meal arranged very precisely in a box-shaped container. Bento can consist of very elaborate arrangements, and there are even bento-arranging competitions!
An example of Japanese Bento:
(Source)
I learned about the idea of Bento on an online health and fitness forum I frequent. A fellow poster suggested these Laptop Lunch boxes – "bento-ware for everywhere" – as a fun, easy way of packing and portioning to-go meals. This poster also writes her own blog – Vegetarian Lunchbox – where she showcases the lunches she packs in said laptop lunch boxes. And they are just so cute!

Over the weekend Dave and I had plans to be out and about over lunch time, so we decided to break out our own Laptop Lunch boxes. I thought I'd share our little bento-creations with you on the off-chance you also appreciate some fun food arranging…or perhaps to inspire you to get a little more creative when you're brown-bagging it.

I present to you…the Laptop Lunch Box!
Handy little inner containers.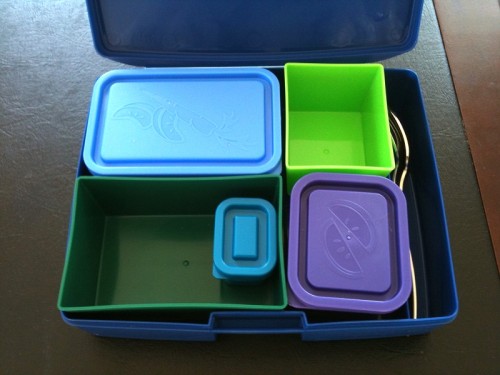 Dave's lunch: peanut butter and jelly on whole wheat, apple slices, cucumber slices, and a Kind bar.
My lunch: peanut butter and jelly on an Arnold's sandwich thin, carrot sticks (to share), apple slices, grape tomatoes, and a Kind bar.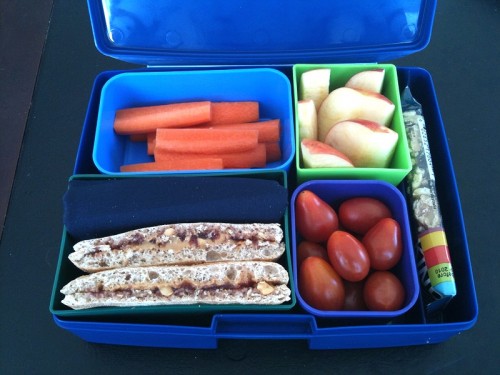 All packed up with some H2O.
In a carrying case for easy transport!
Do you arrange your food to create appealing, edible creations, or do you prefer just slopping everything together? I obviously enjoy playing with presentation, but I admit that on days I'm not photographing my eats, I don't give as much thought to their visual appeal.

4 Responses to "Bento Lunches"