My apologies for another tilapia recipe, but trust me, this one's a winner! 

I currently have a freezer full of tilapia fillets, so I'm having fun trying out new techniques, glazes, sauces, etc.
Last time I went with a ginger glaze, so this time I went in a completely different direction with a dill-yogurt cream sauce. That's the great thing about tilapia's mild flavor; it's not boring to have it twice in the same week because you can so easily make it taste completely different!
Here's how to make Baked Tilapia with Dill-Yogurt Sauce.
Season your fish fillets with salt and pepper, then place on a baking sheet or dish coated with nonstick spray. (I've been using the new non-stick aluminium foil, which makes clean-up an absolute breeze!

)
Then make your sauce by combining chopped green onions, plain Greek yogurt, minced garlic, dried dill, and grated Parmesan cheese. Spread the sauce evenly over each fillet.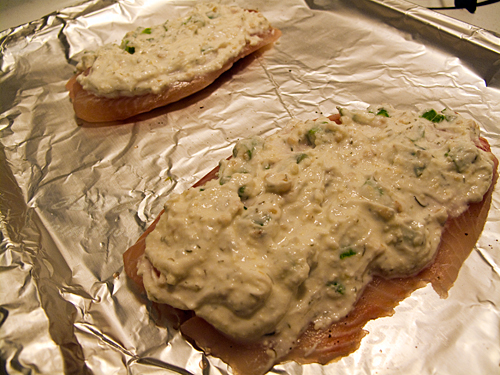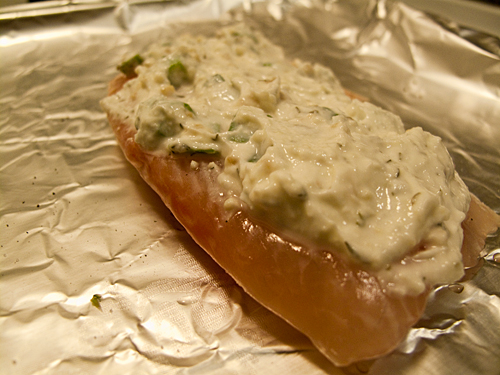 Then simply bake the fish at 375* for about 15 minutes or until cooked throughout (15 minutes was perfect for my relatively-thin fillets). Sprinkle with additional green onions and enjoy!

We enjoyed ours alongside some steamed asparagus drizzled with lemon juice, and a slice of Trader Joe's Whole Wheat Tuscan Pane with a smear of Earth Balance.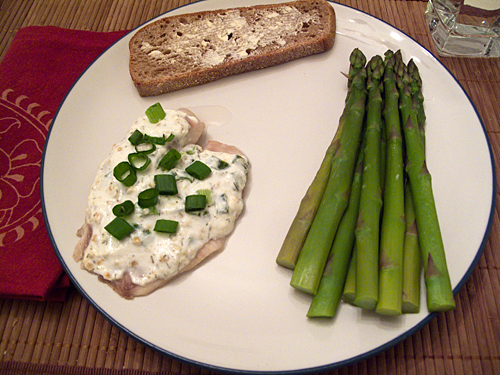 Simple and delicious!
Baked Tilapia with Dill-Yogurt Sauce (Serves 2)
Adapted from Cara's Cravings
Ingredients
2 (4-6 oz) tilapia fillets (or other mild white fish)
4 tbsp plain Greek yogurt (regular yogurt might work, but the Greek variety makes the sauce thicker and creamier)
1 clove minced garlic
1/4 tsp dried dill
2 tbsp grated Parmesan cheese
2-3 large green onions, thinly sliced
1. Preheat oven to 375*.
2. Place the fish fillets on a baking sheet or dish coated with nonstick spray (or covered with aluminium foil). Season with salt and pepper.
3. Reserve 1 large tbsp of the green onions for the end. In a bowl, combine the remaining green onions, yogurt, garlic, dill, and cheese. Using a rubber spatula, spread an even layer of the sauce mixture over each piece of fish.
4. Bake for about 15 minutes (more or less depending on the thickness of your fillets), until firm and opaque in the center. Sprinkle with remaining green onions, and serve!
8 Responses to "Baked Tilapia with Dill-Yogurt Sauce"