My husband Dave has achieved some important accomplishments at his job recently, and we've been meaning to go out and celebrate his success for quite some time. Friday night we finally had the opportunity to do so, at a restaurant we've both been really anxious to try: Woodberry Kitchen.
We'd heard some great reviews of Woodberry Kitchen, which is located in the historic, renovated buildings of Clipper Mill. It's catch phrase is "from farm to table," as it emphasizes organic, sustainable, seasonal fare from local/regional growers and suppliers. In other words, right up our alley.

I tried to get a little spruced up for my handsome hubby.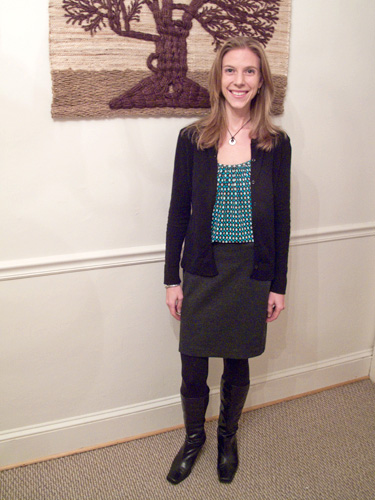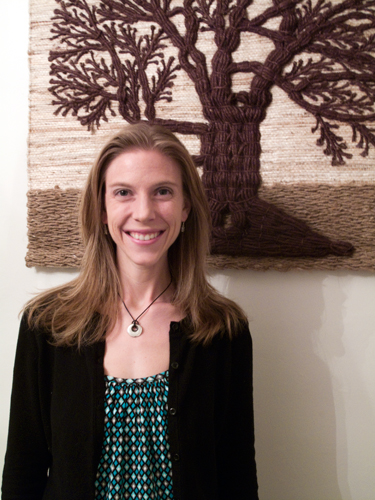 Totally irrelevant, but I just have to share this close-up of my necklace. It was a Christmas gift from my aunt, and I just think it's so beautiful!
The honoree of the evening!
Ok, onto the good stuff!
First I have to rave about Woodberry Kitchen's decor and atmosphere. The exposed brick, the open kitchen and brick oven, the open second level – it was all very chic, yet rustic and fitting for the "farm to table" philosophy. No photo of mine could do it justice, so here are some I snagged from the restaurant's website.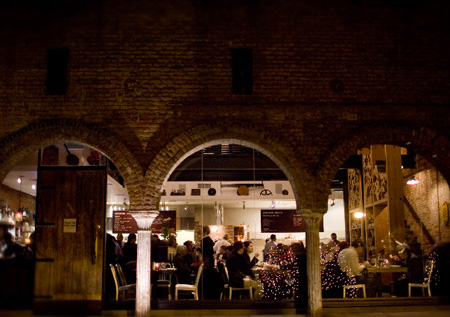 We were seated on the second level, so our view was a little bit like this.
Nice bar area.
Of course we began with a bread basket. There were two options – wheat and sesame seed – so I sampled half of both.
Since the night was all about Dave, we ordered the appetizer that caught his eye: Martha's Vineyard Sizzlin' Bay Scallops, which were literally sizzling on the plate.
Served with herb butter, sea salt, pepper, and lemon. They were cooked perfectly!
For his entrée Dave got the Rockfish Out of the Oven, which came with creamy leeks, parsnips, pea-shoots, and pickled mushrooms.
Dave's report: the rockfish was perfectly flaky and went well with the leeks, and the parsnips were tender and sweet. But the pickled mushrooms were a little…odd. Just not up his alley. But overall the dish was great!
I went with a Flatbread of Smoked Chicken, Onion, Spinach, Cheddar, and Honey.
This was really delicious! The honey (which was from a local place called Cybee's – the same kind I have in my pantry!) was just drizzled over the top, which added just the right amount of sweet to balance the saltiness. In addition to being quite delectable, this pizza was also huge; I ate half and saved the rest for lunch the next day.
My only critique of this dish is that as soon as I took a bite I realized there were little pieces of bacon on it. I didn't think to ask our server about it because I thought it was a tasty addition! But when I was enjoying my leftovers Dave made a good point that the bacon really should have been included in the menu description, for the sake of those who do not eat bacon for religious or other reasons. So if you go here and have any kind of food restrictions or allergies, I would just be certain to ask your server before ordering.
At this point we were reasonably full, but not getting dessert was simply not an option, all because of this man:
(Source)
Perhaps you're familiar with Chef Duff Goldman – baker, food artist, and owner of the famed cake shop Charm City Cakes. Duff is the star of the popular Food Network reality show Ace of Cakes, and his bakery is literally less than 10 minutes away from Woodberry Kitchen.
If you're a Food Network fanatic, then you've also probably heard of this fun little show called The Best Thing I Ever Ate, where the network's beloved chefs discuss their favorite foods. In the episode called "Sugar Rush," Duff went wild over his best-loved dessert: the C.M.P. at…you guessed it…Woodberry Kitchen! So of course we had to try it!

C.M.P. stands for Chocolate, Marshmallow, and Peanuts. Basically it's malt ice cream mixed with chocolate ganache, marshmallow fluff, and wet peanuts (they're wet from being coated in honey!).
A-M-A-Z-I-N-G! And I'm not even a big fan of marshmallow! Oh, and that film on top that looks like ice? That would be crystallized sugar that you literally break through to get to your dessert. Then you mix it all up until it looks like a sloppy mess and enjoy!
(If you want to see Duff discuss this small piece of heaven, or hear Woodberry Kitchen's pastry chef explain how it's made, you can watch this video.)
Needless to say, we left Woodberry Kitchen with very full, very happy bellies.

Question of the Day: Is your mouth watering right now over the C.M.P?

6 Responses to "Woodberry Kitchen"