Did you get any snow yesterday??? We thought it was going to miss us, but such was not the case.

I can smile like that because the not-so-fun snow tasks – such as shovelling it – are usually handled by the Hubs. Although snow-shovelling does make for an excellent workout! (For the record, we currently only own one shovel, I'm not actually that lazy!)
Breakfast
I woke up freezing. A bowl of oats was definitely in order.
In the bowl:
old-fashioned oats
pinch salt
banana slices
natural chunky peanut butter
Archer Farms (a.k.a. TARGET!) Sunny Cranberry Trail Mix
ground flaxseed
I've been meaning to start adding ground flax to my oatmeal, and finally did it after a lovely blog reader suggested it. (I ♥ when you make comments and suggestions!) Flaxseed has an impressive list of health benefits, including lowering cholesterol and risk of heart disease, and helping to prevent the growth of some types of cancers. It's also a great source of fiber. Livestrong.com has more information if you're interested. However, don't make the mistake I did a few months ago and try to acquire these benefits by consuming the flax seeds whole - either buy ground flaxseed or grind the seeds yourself. Apparently, as this article from MayoClinic.com explains, whole flaxseed just passes through your system undigested, so you don't really get any health benefits.
A great breakfast!
After breakfast I popped in Jillian Michaels' Banish Fat Boost Metabolism exercise DVD. Of all the workout DVDs I own/have tried, Jillian Michaels' are definitely my favorite. I'm actually not a big fan of hers ever since she came out with a line of supplements and detox-type products, but I still love her workouts. I like that they focus on bootcamp-style moves, which I prefer when it comes to workout videos. Don't get me wrong, I LOVE to shake my booty, and I dance around my house all the time. But when it comes to exercising, I just prefer jumping jacks and high-knees to jazz boxes. Do you like dance-based DVDs and exercise classes?
Post exercise, Dave and I immediately headed to the farmers' market to get our local groceries for the week. On the drive there it started snowing, so we dashed around, picking out our fresh bread, produce, and meat as quickly as possible (this particular market is entirely outdoors but is open year-round). It was fun but cold.
Lunch
After our snowy market experience, Dave and I both knew exactly what we wanted for lunch – HOT SOUP! Paired with a sandwich.
The sammie consisted of cream cheese, spinach, tomato, cucumber, and pickles on pumpernickel bread. (Cream cheese and pumpernickel go so well together!)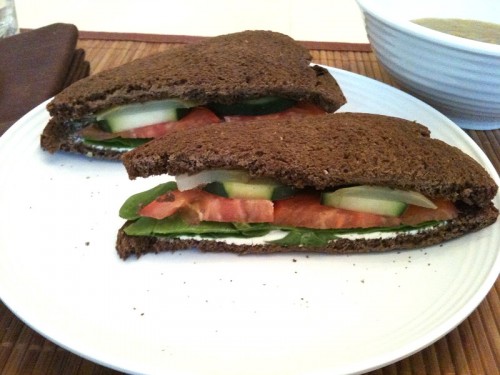 Dave and I split this Amy's Organic Split Pea Soup.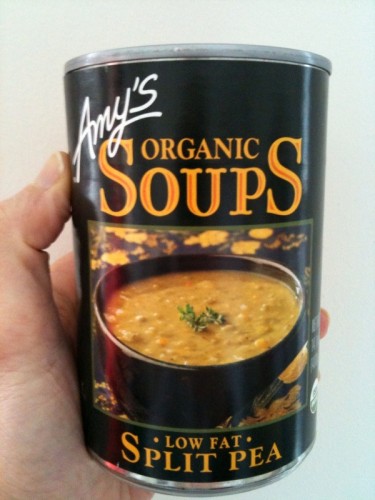 Definitely one of this brand's best soups. (Although it might be pretty high in sodium. I usually check that with canned soups, but I forgot this time.) It's the perfect texture for pea soup – not too chunky, not too creamy.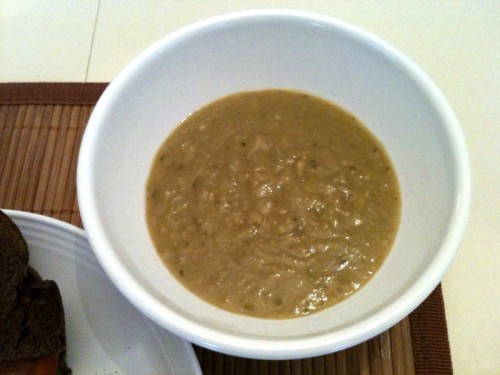 After lunch the snow was still coming down pretty hard, which I took to be a sign that I should put my pajamas back on and curl up on the couch under a warm blanket. I had lots of reading to do for school, so it worked out perfectly. Except that it's difficult to concentrate on school work when you have this face staring at you the entire time:
I'm sure every kitty-mother says this, but I think I have the most beautiful cats in the world!

Dave had a kitty companion too.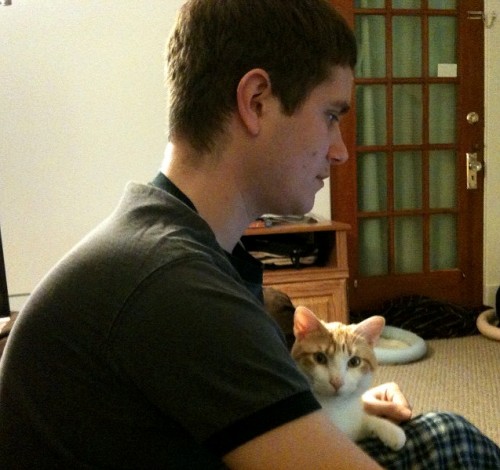 Afternoon Snack
First I enjoyed a small apple alongside a Laughing Cow Light Cheese Wedge.
Does anyone else insist on always cutting up their fruit? I much prefer to eat fruit in slices if at all possible.
Later I heard Dave breaking open a new bag of chips I've been wanting to try: Trader Joe's Vegetable Root Chips.
I wasn't super hungry, so I just sampled a few of each kind.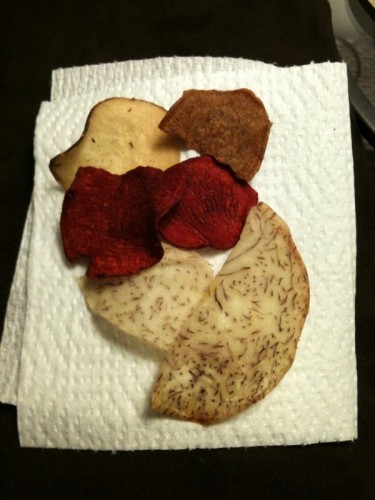 The parsnip ones were my favorite.

Dinner
Dinner was a repeat from earlier in the week: Last-Minute Lasagna + salad.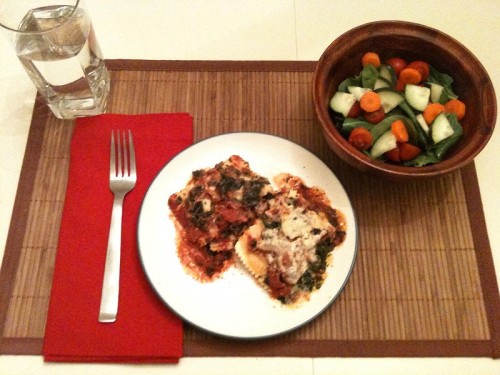 This lasagna is one of those dishes that you think won't make good leftovers judging by the way it looks in the refrigerator, but as soon as you heat it up and take a bite, you realize you were quite mistaken.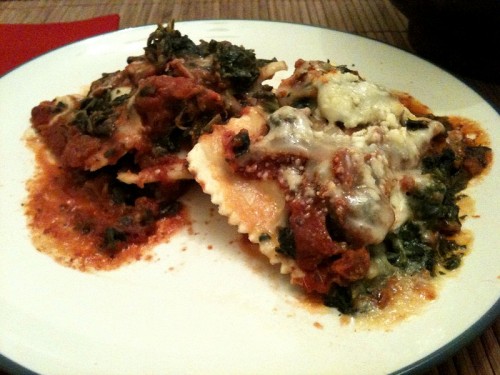 Spinach salad with grape tomatoes, cuke slices, carrots, and white balsamic vinegar.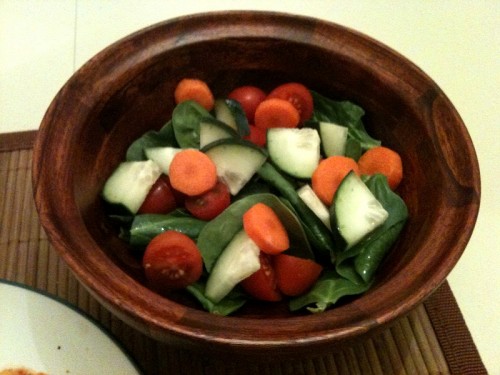 Yum, yum, yum! Unfortunately my eyes were a little bigger than my stomach on this one, and I couldn't quite finish my entire serving of lasagna. (I left maybe two or three bites.)
Evening Snack
I kept "dessert" light since the lasagna was pretty heavy. I tried a new (to me) yogurt: Stonyfield Farms Chocolate Underground.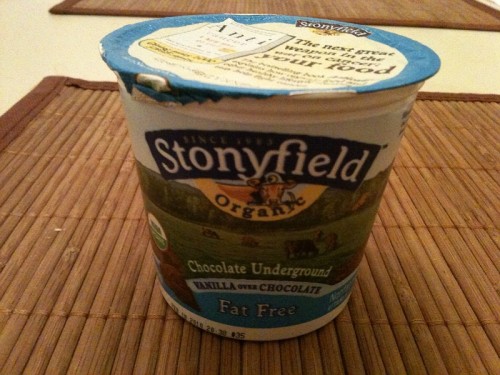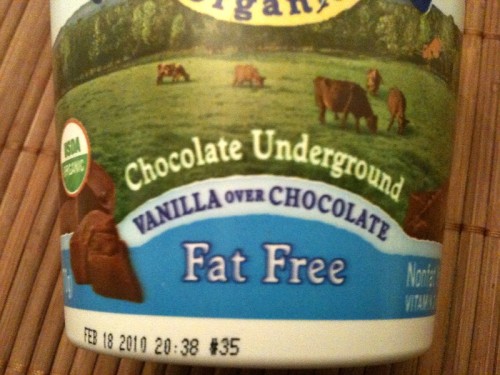 Vanilla yogurt for about 3/4 of the container, and then – SURPRISE! – a layer of chocolate on the bottom. Fun!

Plus a nectarine and a kiwi.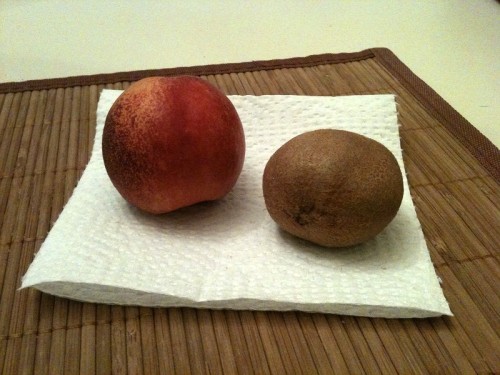 Did you get any snow this weekend? How did you spend your snow day?
5 Responses to "What I Ate – 1/30/2010"