Did this week just fly by for anyone else? I can hardly believe it's Friday already! Here's a quick look back at my eats and treats for yesterday.

Breakfast
Breakfast was a fun yogurt bowl!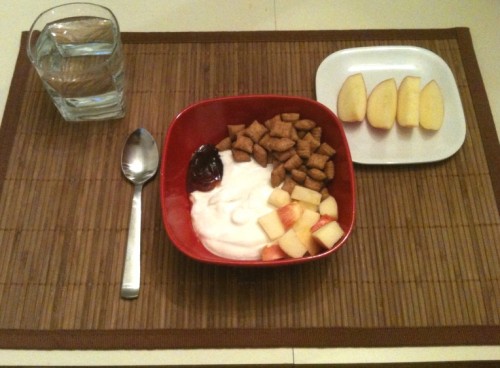 plain Greek yogurt
Barbara's Bakery Original Puffins
Apple (my last honeycrisp )
Plum jam
I've heard a lot of people say they can't take the taste of plain Greek yogurt. I personally like the little bit of tang, but I also always sweeten it up with something – fresh fruit, jams and jellies, honey, or a little agave nectar. There are also lots of kinds that come with sweeteners (Chobani has some great fruit flavors).
This morning my star sweetener was this AWESOME jam from the farmers' market.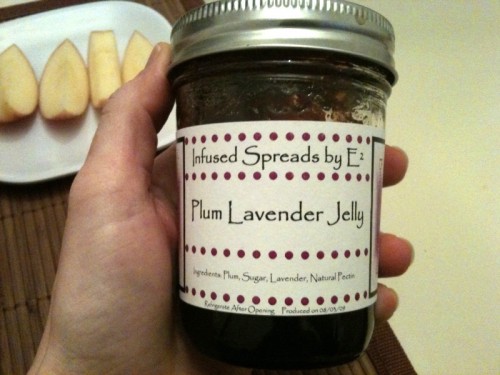 Dave and I have developed quite a good rapport with the couple who runs this business. They make so many interesting, delicious jams, jellies, and butters. We try new kinds all the time!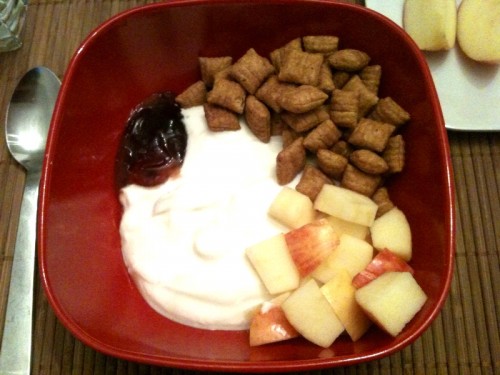 All mixed up to create a "yog mess," as Holly at The Healthy Everythingtarian would say!

Mid-Morning Snack
Around 11:00 I snacked on an appropriately (albeit disgustingly) named blood orange.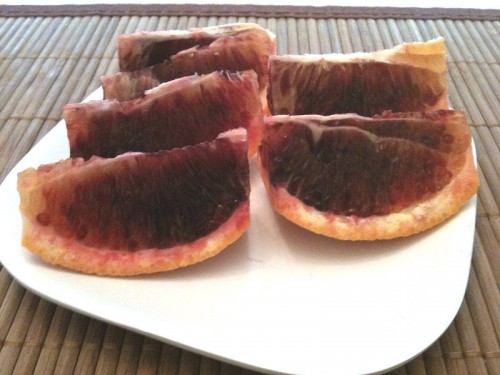 That little guy was juicy! At one point I took a bite and somehow juice ended up all over the wall in front of me!

The wall was a good four feet away, so that juice got some distance!

Lunch
I have a tendency to open a can of beans early in the week, use just a few, and then have to try to think up interesting ways to use them up. Fortunately beans are extremely versatile and can be added to just about anything. Lunch was a taco salad of sorts.
In the mix:
lettuce
grape tomatoes
cucumber
black beans
red kidney beans
pineapple salsa
I just realized now, as I write this post, that I forgot to add cheese!!!
Oh well, it was still quite good.
Plus some tortilla chips for CRUNCH!
I ended up deconstructing the salad and making little nacho bites, which was sort of fun! You're never too old to play with your food a little bit, right? 

Afternoon Snack
My afternoon snack was some carrot sticks with a Cinnamon Roll Lara Bar.
Have you tried Lara Bars? They're FABULOUS! They are all natural and made from real, whole foods – no added sweeteners, fillers, or weird unidentifiable ingredients. In fact, each flavor contains no more than eight ingredients. That's quite impressive, considering that most bars out there – even the healthy ones! – contain a disturbingly long list of ingredients.
Want to try Lara Bars? PreventionRD is currently hosting an awesome Lara Bar Giveaway! Three winners will get free samples of eight Larabar varieties! So go enter! What have you got to lose?

This snack was perfect fuel for my workout. I waited to exercise until the early evening so that Dave and I could hit up the Y together. I was really excited to exercise because of this little contraption:
That would be an armband for my iPhone! I was really excited about it because I loved the idea of listening to Pandora while working out because then I could hear all kinds of music without having to buy it first. The truth is that it's a little bulky; when I'm running on the treadmill I'll probably just stick to my little Nano. But yesterday I used the elliptical and it totally did the job – I ended up going for five minutes longer than planned because Shakira came on Pandora and I just couldn't stop bopping along! Yes, I am that person who dances a little bit while exercising…I can't help it!
Dinner
On evenings we go to the Y together, our dinners are usually quick and easy because it's getting a little late by the time we get home. But quick and easy can still be delicious! Last night was BLT sandwiches.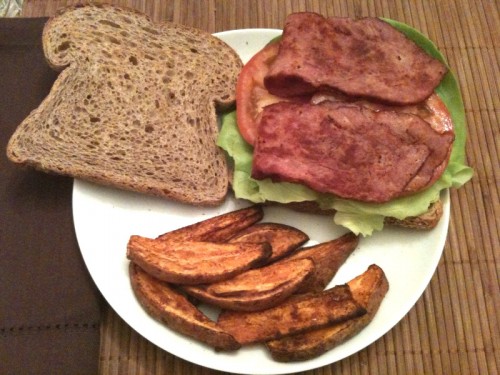 That would be lite mayo, lettuce, tomato, and turkey bacon on toasted whole wheat bread.
With a side of sweet potato oven fries, which were GREAT!
I followed this simple way of making them from Trading Up Downtown. I just sliced two small sweet potatoes (you can peel them if you prefer, but I like to leave the skin on because 1) it's delicious, and 2) that's where all the great fiber is!), put them in a Ziplock bag with some olive oil, cinnamon, and paprika, and did some major Shake 'N' Bake action. Then I baked them at 425* on a foil-lined baking sheet for about 30 minutes, turning them over occasionally. Perfection! I cut mine more like steak fries, but if you like crispier, more shoe-string-like fries, you can always just slice them thinner.
Dave and I were trying to figure out what would be a good dip for sweet potato fries. I know some people use ketchup, but I'm not sure if I'd like that. Dave thought Ranch dressing might be good, but I don't really like Ranch all that much. Maybe plain yogurt/sour cream?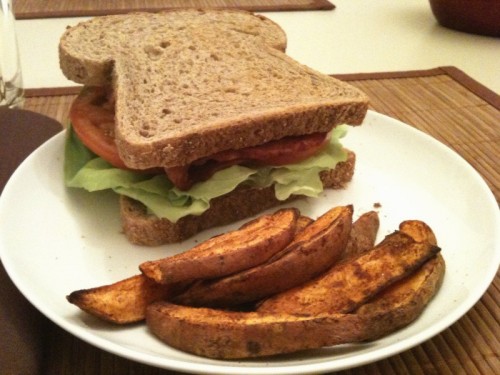 Evening Snack
My sweet tooth kicked in right as I was settling in to do something very productive watch Project Runway. I satisfied it with a dark chocolate Vita muffin top (pomegranate flavor), plus some strawberries that needed to be eaten immediately or tossed. A little bit of chocolate +  a little bit of fruit = the perfect indulgent yet still healthy snack!

Some people might be surprised that I just confessed to eating a snack so late at night (it was probably around 10:00 pm) because there is so much hype out there about late-night eating and weight gain. But the reality is that weight gain/loss is all about calories in versus calories out, regardless of when you eat them. Correct me if I'm mistaken, but I think the real reason people do lose weight more easily when they nix night-time eating is that evening is when mindless snacking is most likely to occur.
I personally really enjoy a little evening snack, usually a sweet one. So instead of trying to deny myself – and then going overboard and feeling guilty about it – I simply plan for it and then enjoy it mindfully (meaning that even though I was watching television, I waited to eat this until a commercial came on, muted the television, and gave eating my full attention). No harm done!

How do you feel about evening snacking?
9 Responses to "What I Ate – 1/28/2010"