I hope you had a good Monday yesterday! Mine was quite delicious.

Breakfast
Like many of you, yesterday I awoke to dreary rain and wind. Yuck. I felt the need to combat the weather with something sunny and yummy, say, EGGS!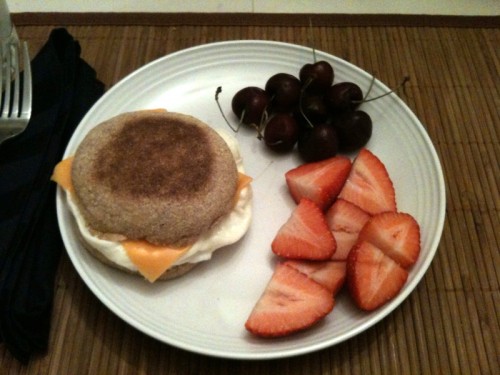 While I would have preferred something really cheery – perhaps sunny side up? – Dave and I were a bit rushed. So I went with an egg white and cheese sandwich on a whole wheat English muffin, which hit the spot.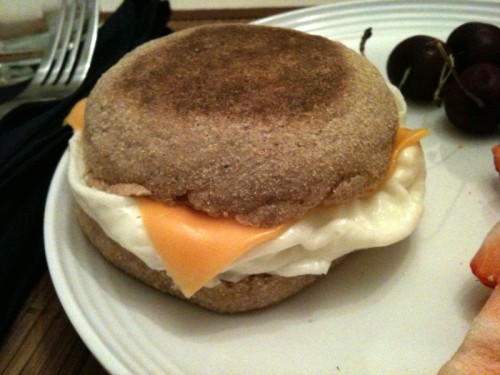 Plus some fresh fruit.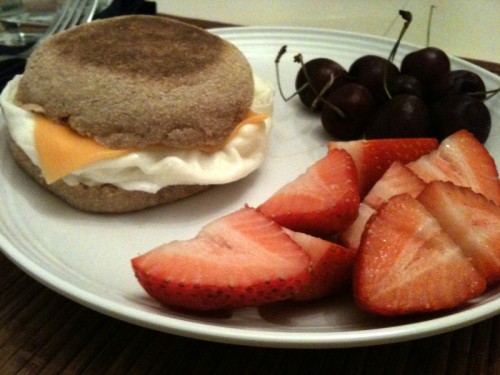 Mid-Morning Snack
After breakfast I headed to the YMCA for 30 minutes of speed intervals on the treadmill, which actually went really well considering I had an entire egg sandwich in my stomach! After exercising and getting ready for the day, I headed out to run some errands. I packed a small snack to take along for a very important reason: one of my errands was grocery shopping. And the # 1 rule of grocery shopping is this: don't do it hungry! It's bad for your waistline and it's bad for your budget.
So before I went into Trader Joe's, I had a few raw almonds and some dried apricots.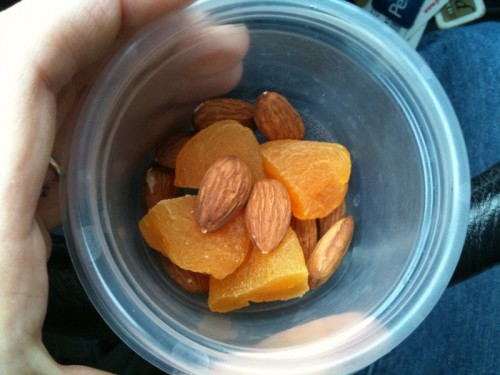 Lunch
My kitchen is currently overflowing with fresh produce that is crying out to be enjoyed. So for lunch I did one of my favorite things: raided the refrigerator, grabbing everything that looked appealing and throwing it together in a bowl.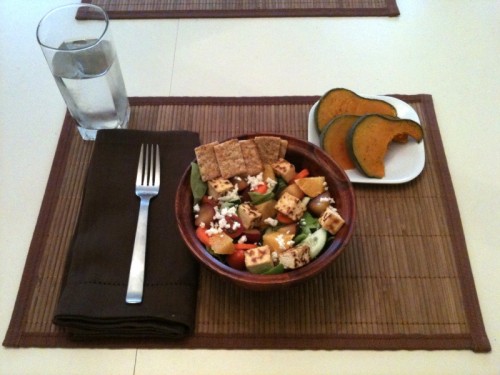 Contents of the salad bowl:
Boston lettuce
Pan-fried tofu
Grape tomatoes
Cucumber
Carrots
Orange slices
Plum
Crumbled feta
Drizzle of seasoned rice vinegar
Handful of Kashi crackers (toasted asiago flavor – yum!)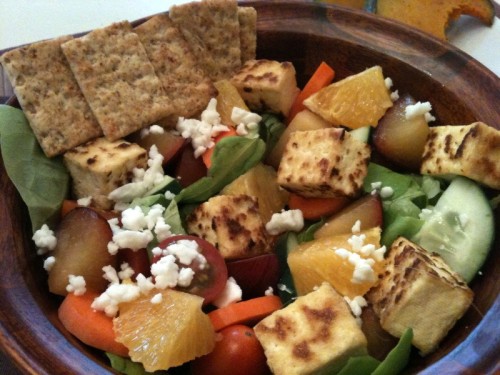 I never worry if the contents of my mega salads don't exactly "go" together, and somehow it always ends up tasting good!
I also had a few slices of roasted buttercup squash (leftovers from the previous night's dinner). This was my first time trying buttercup squash, and I really like it! I have yet to find a winter squash (or summer, for that matter) that I haven't liked. (I'm eager to try a Kabocha, but I can't find one!)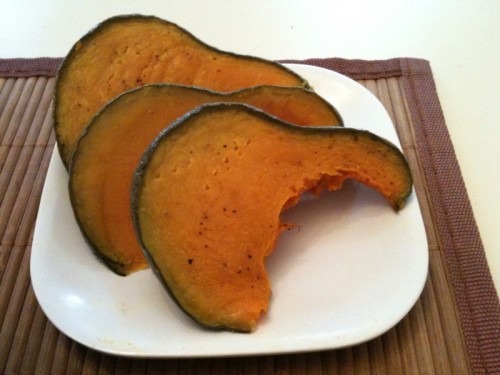 Very satisfying lunch!
Mid-Afternoon Snack
Well, this was actually more like an early evening snack. Before I started cooking dinner I munched on some whole wheat pita bread wedges dipped in roasted red pepper hummus. This is because of another very important rule: don't cook when hungry! Cooking on an empty stomach = so many "taste tests" that you're not even hungry for dinner when it's ready!
Dinner
Dinner was divine! I followed this Real Simple recipe for Turkey and Bean Chili, with a few changes. I planned on using ground turkey, but then I found local ground beef on sale at the farmers' market (from Woolsey Farm in Churchville, MD). So I went with that instead. I also doubled the recipe because I knew it would make great leftovers for the week, and I also wanted to freeze some. Not to mention making a giant pot of chili is just FUN!

This meal was SO GOOD!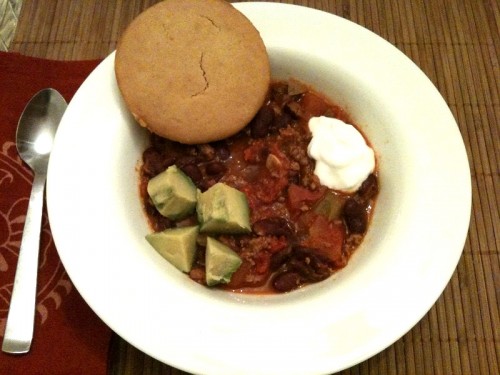 Big bowl of chili topped with avocado, plain Greek yogurt (tastes just like sour cream!), and corn bread (not homemade – don't judge!).
Dave and I were literally saying "Mmmmmmmm" as we ate.
I mean, I hated it, obviously.

Evening Snack
Dessert was one of my new obsessions. If it doesn't look appealing to you, blame my lousy photography skills (or, more accurately, the fact that my photos are coming from my cell phone).
After dinner I melted some dark chocolate, dipped the banana into it, and popped it in the freezer for an hour or so until the chocolate formed a hard shell. A perfect little treat!
What's your favorite kind of chocolate-covered fruit? Bananas, strawberries, oranges – so many possibilities!

5 Responses to "What I Ate – 1/25/2010"