If you read a lot of food blogs, you're probably already familiar with Last-Minute Lasagna. It's causing quite a stir in the blogosphere.

And no wonder! It's originally a Real Simple recipe, the kind that really helps the magazine live up to its name. After coming across it first on Carrots 'N' Cake, and then again on Kelly Cooks, I knew I had to try it.
So if you've already been enjoying last-minute lasagna, please excuse the repetition. But this dish is just so quick, easy, and delicious (and novice-cook friendly!) that I couldn't resist spreading it around a little more.

(Note to self: food looks significantly more appealing when photographed by Dave and his high-quality camera than when photographed by Katie with her cell phone!)
In a nutshell, you basically just layer pasta sauce, cheese ravioli, spinach, and shredded mozzarella…and repeat!
Bottom Layer.
Frozen spinach – thawed and squeezed of excess water.
Hmmmmmmm….cheese….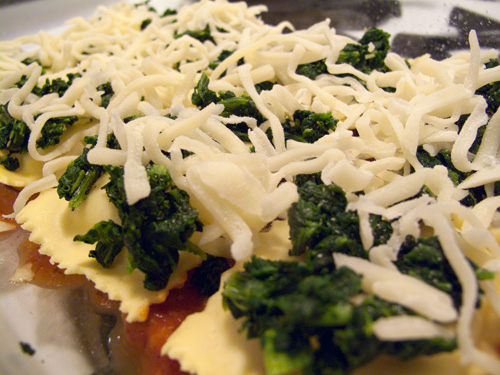 Another layer.
All topped with grated Parmesan.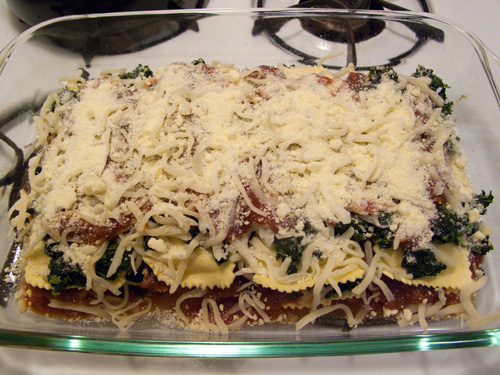 Baked until irresistibly melty and bubbly. I enjoyed my portion with a spinach salad (because the more spinach in a meal, the better! 

) dressed with balsamic vinegar.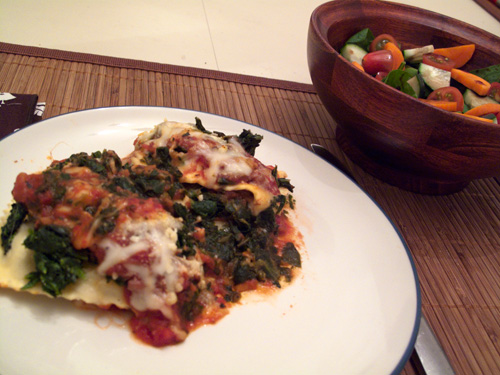 You definitely want to eat this!
All-in-all, an easy, filling, lovely dinner, no significant cooking skills required!

Last-Minute Lasagna (via Real Simple, Carrots 'N' Cake, and Kelly Cooks)
Yields 6 servings.
1 24- or 26-ounce jar pasta sauce
2 18-20-ounce refrigerated large cheese ravioli (I used Trader Joe's Three-Cheese Jumbo Ravioli. Also, some people have used frozen instead of refrigerated.)
1 10-ounce box frozen chopped spinach, thawed and excess water squeezed dry
1 8-ounce bag shredded mozzarella
1/2 cup (2 ounces) grated Parmesan
Pre-heat oven to 375° F.
Spoon a thin layer of sauce over the bottom of a 9-by-13-inch baking dish.
Cover with a single layer of ravioli.
Top with half the spinach, half the mozzarella, and a third of the sauce.
Repeat with another layer of ravioli and the remaining spinach, mozzarella, and sauce (not all of the ravioli may be needed).
Sprinkle with the Parmesan.
Cover with foil and bake for 25-30 minutes.
Uncover and bake until bubbly, 5 to 10 minutes more.
Have you tried Last-Minute Lasagna yet?
5 Responses to "Last-Minute Lasagna"