It's Baltimore Restaurant Week!!!

Restaurant Week is a fun occasion held in cities all over the country where restaurants offer special prix fixe menus (here in Baltimore the standard is a three-course dinner for $35.10 per person). Dave and I love a good bargain almost as much as we love good food, so we always take advantage.
This time we decided to try Gertrude's, which is the restaurant inside of the Baltimore Museum of Art. The owner and head chef is John Shields, who is pretty well-known around these parts as a cookbook author and television cooking show host. Gertrude's emphasizes Chesapeake foods and traditions (hello, seafood!), using lots of local, organic ingredients.
I snapped this kind of artsy photo before we left. (I like how the mirrors look in the background.)

I really liked the decor at Gertrude's. It was very open, and the ceiling had this fiber-optic lighting that looked like stars (which sounds cheesy but was actually very classy). One wall was covered with a beautiful, Chesapeake Bay-inspired mural that I wish I had photographed to show you. And there was a pillow next to my seat.

Bread to begin, as always.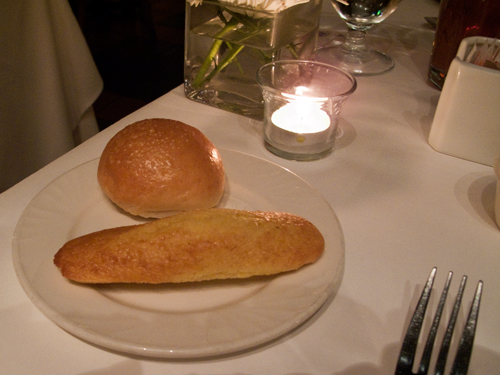 The long piece was actually cornbread, and it was probably the best cornbread I've ever had. Soft and not too dry. I didn't end up eating the other roll because our food came out pretty quickly, and so I kind of forgot about it. (I also didn't want to fill up on bread since I knew I'd be having dessert.)
For the first course Dave chose the Traditional Virginia Oyster Stew.
He loved it, but quickly learned that soup is not always the best choice for a first course because it's so filling.
I went with a Roasted Beet Salad with pecans and local goat cheese.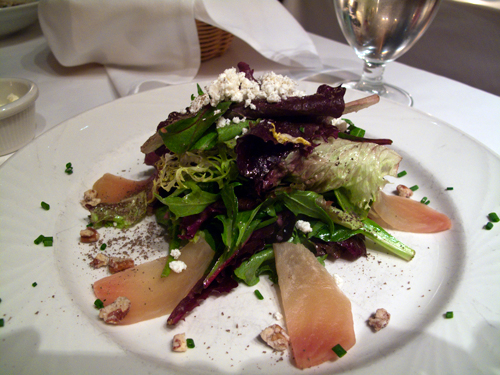 I'd give this an A+ for presentation, but a much lower score for flavor. The greens and the cheese were excellent, but the beets tasted like…nothing. I absolutely love beets, so I was a bit disappointed.

For the second course Dave went with the Maryland Rockfish which came with strips of bacon, Yukon potato purée, and rainbow chard.

He said this was even better than the rockfish he had at the Woodberry Kitchen. Perhaps because everything tastes better with bacon?

(I actually don't believe that at all! Ha!)
For my main course I chose the Mussel and Shrimp Bourride.
I wasn't expecting my shrimp to arrive with their heads intact!

This stew was really good, although I sort of wish I had chosen a meal that required a little less "work" on my part. (This was my first time having mussels, and I admit I probably looked a little awkward getting them out of their shells. But they tasted delicious!) That little piece of bread on the side was smothered with saffron aioli.
And of course, DESSERT!
This dessert made the entire trip worthwhile! It was called the Mt. St. Michaels Apple Crepe – basically layers of crepe with sautéed apples. I love warm, soft desserts featuring cooked apples. It was served with butternut squash ice cream, which didn't taste like much at first bite, but after a few seconds you got a distinct butternut flavor…yum! The ice cream also had caramelized hazelnuts, which was a great combo.
Dave ordered the pear-ginger sorbet, which went un-photographed because it didn't really look like anything special.
I tried a bite and thought the ginger was way too strong, but that's exactly why Dave liked it!
Do you take advantage of Restaurant Week in your area?
4 Responses to "Gertrude's at the BMA"