On any given day, we are all wearing multiple hats. We're daughters, sons, mothers, and fathers. We're spouses, partners, and friends. We're students and employees. We're artists, writers, and musicians.
We also all play another role, yet its one that most of us rarely think about: the role of consumer.
As consumers, we are constantly subjected to companies' attempts – sometimes obvious, sometimes not – to grab our attention, to convince us their product is worthy of our hard-earned cash. We are bombarded with advertisements, commercials, flyers, endorsements, and circulars promoting everything from clothing to housing to prescription medications. And, of course, the food industry is no exception.
In fact, the food industry is one of the top advertisers in the United States.
In thinking about the topic of food and advertising, I've been asking myself two questions. First, are we really that susceptible to it in the first place? And second, should it be regulated?
How powerful are advertisements, really?
I don't think there's one single answer to this question; it varies from person to person. For example, my mom can see a commercial on television for Dairy Queen, and it will haunt her for days until she finally gives in and buys an Oreo Blizzard. I, on the other hand, like to consider myself immune to the clever tricks of advertisers. (Although this may be a self-fulfilling prophesy. I hate the idea of being mentally manipulated by a corporation so much that seeing a commercial often makes me go out of my way to not purchase the product. Go figure.

.)
But my attention was recently drawn to a study conducted at Baylor College of Medicine (reported on by The New York Times Magazine's Clive Thompson in 2003). The study examined the brains of participants as they taste-tested Coke and Pepsi. Interestingly, when participants tasted the two sodas without knowing which was which, they preferred Pepsi. However, when they were aware of the brands, they preferred Coke.
Using MRI brain scans, researchers discovered that during the two taste tests, different areas of the brain became more excited. In the blind test, the area of the brain that processes feelings of reward lit up. During the test with the brands exposed, the area of the brain associated with memory lit up. What does this all mean? Basically, our food preferences go far beyond our taste buds; they are also influenced by our past impressions and experiences, which includes all of the advertising our brains take in each and every day.
Should food advertising be regulated?
If it's true that we are susceptible to the messages of advertisers – even if we think we aren't – then does it make sense for such messages to be regulated, particularly when they are promoting food and beverages that do more harm than good for our bodies? It's a question that's open for debate.
At this point, several European countries say yes, while in general the United States says no. For example, Ireland bans all television commercials for fast food and requires that candy wrappers contain a "warning" (much like the Surgeon General's warning on cigarettes) that the candy should be eaten in moderation (source).

And what about advertising geared toward children? According to the same article referenced above, Sweden, Norway, Austria, and Luxembourg ban television advertising to children completely, and Belgium, France, and Portugal ban school-based marketing. In the United States, the food industry spends over $10 billion per year on advertising geared toward kids (source). And of course most of these advertisements aren't promoting fruits and vegetables; they're promoting sugary cereals and candies.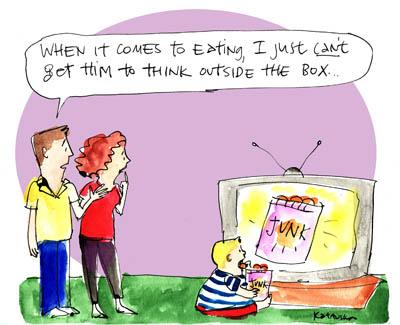 (Source)

But does that make it wrong? And is it only an issue in regards to unhealthy food, or should we somehow be protected from advertising messages of all kinds? Then who is to say which messages are acceptable and which are not?
I find these questions really interesting, particularly because I believe there are no easy, definite answers. I'd love to hear what you think!
Are you susceptible to the messages of food advertisements? Do you think food marketing should be more regulated? Why or why not?

7 Responses to "Food and Advertising"