Let's start with an important confession: I AM NOT A COOK!
"What???" you ask. "A healthy living blog written by someone without culinary skills??? How can this be?!"
So many food/health bloggers have some kind of culinary background. I have none. I never really learned to cook growing up, and spent the first year on my own relying on canned goods and boxes of mac 'n' cheese. Recently, however, I've started trying to teach myself to cook.
My desire to learn to cook came directly from my decision to focus on my whole health. Before, I thought eating healthy meant dining every evening on a frozen diet entrée. Now I know that my body looks and feels much healthier when I give it whole, fresh foods as often as possible – which means COOKING!
Don't get me wrong: ready-to-eat meals can be wonderful. They're convenient, and nowadays there are lots of healthier options with (mostly) pronounceable ingredients (one brand I love: Amy's Kitchen). But they are still no substitute for creating your own fresh, healthy meals.
So perhaps I should change my confession: I am not a cook YET

Here are some of the ways I'm learning my way around the kitchen:
1. Start with the basics.
Coming from a state of utter clueless-ness means that even simple recipes can be difficult to follow. Sauté? Braise? Roast? While I was vaguely familiar with these cooking verbs, their actual meanings were a mystery. Enter the basic cooking Bibles: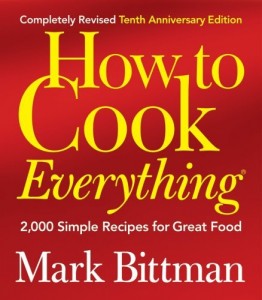 I'm currently loving both of these books because they are basic, clear, and simple without being patronizing or making me feel silly for my lack of knowledge. If you're interested in learning to cook but find yourself lost, I highly recommend both of these books. Also, don't be embarrassed to use the almighty Internet as a source of information…I've been known to run mid-recipe from my cooking station to my computer to download "How To Dice an Onion" on YouTube.
2. Experiment
Kitchens can be SO INTIMIDATING if you've never really cooked before. I had to get rid of my fear of the unknown – and ignore my lack of confidence – in order to put a healthy, interesting dinner on the table. Entering the kitchen with an open mind can make a world of difference. Nowadays, I have a tendency to throw caution to the wind, just to see what happens. Hmmmm, I wonder if sage would taste good with this dish? Well let's find out!
Of course this means that sometimes I fail quite miserably. So far I've had an entire batch of sauce evaporate when I tried to thicken it, I've burnt chicken in the slow cooker (who would have thought that was even possible!), and I've baked dry, crumbly cookies due to an incorrect flour measurement

. Fortunately, I'm ok with these mishaps, and my husband Dave is too. We know my forays in the kitchen sometimes produce inedible results…but sometimes they produce delicious ones!

3. Question
I am convinced that becoming a decent cook is all about being inquisitive. I am constantly asking people cooking questions, and I've learned so much from their answers! I frequent online cooking forums, read food blogs, and pose questions to my friends and family. Last weekend at my local farmers' market, I asked a woman selling a variety of mushrooms which ones she recommended for sautéing (she said shiitake) and another customer chimed in that they go great with garlic. So later this week Dave and I will be feasting on some sautéed shiitakes with garlic!  I asked one simple question and left with a new recipe to try.
AND FINALLY…
4. Use the proper tools.
Now I'm not saying you need a bunch of fancy gadgets to learn to cook, but having a few good-quality basics can turn a difficult task into a simple one. For example, I used to have the HARDEST time cutting just about ANYTHING. I assumed this was because I am, by nature, a bit klutzy and lacking dexterity. While that was partly true (and still is), cutting has become remarkably easier now that I own these beauties:
The beautiful knife block my mom gave me for Christmas (thanks, Mom!

)
Oh, and some fun cooking attire doesn't hurt either!
Remember to be a 'clean kitchen cook' by always cleaning and sanitizing right after. I recently decided to invest in a quartz sink after reading the quartz sink reviews, cleaning it is so easy, you just use water, liquid dishwashing soap and a sponge or cloth, then dry. So that's how I'm going about conquering the kitchen and learning to create fresh, wholesome meals. What about you? I'm curious – how did you learn to cook? Did someone teach you, or did you teach yourself? Or, if you don't cook, what's holding you back?
2 Responses to "Conquering the Kitchen"